January 7, 2020
January Heffy Doodlers Challenge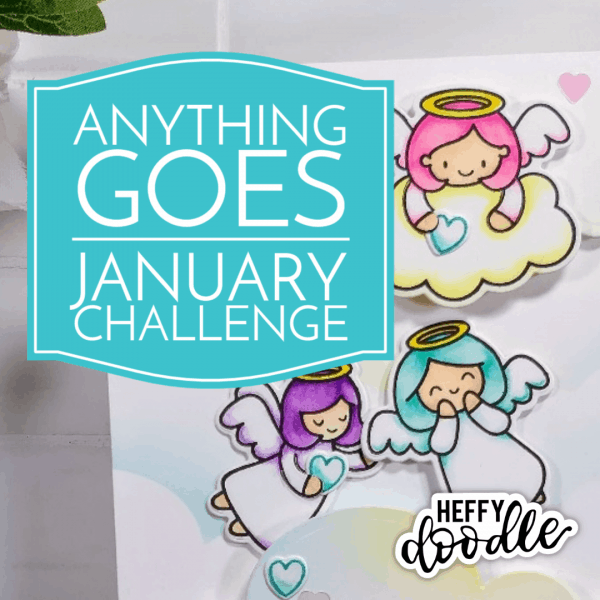 Hey crafty friend, It's Amanda Stevens again, and it's time to announce the winner of the December Heffy Doodlers Challenge! I'd like to thank everyone who entered the Winter Wonderland challenge last month. There were some really clever entries! Make sure you've joined the Heffy Doodlers group on Facebook. You can share your projects and meet new crafty friends. I try to share Lesley's weekly videos there too as soon as she goes live.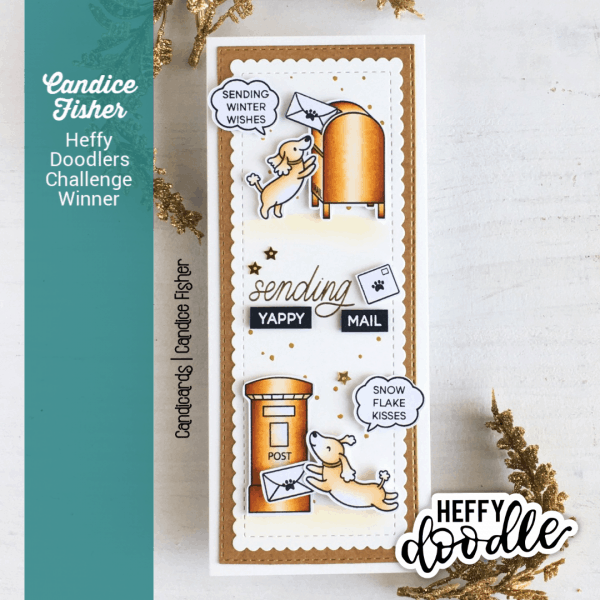 December's winner is Candice Fisher, with her adorable slimline card! Her coloring, the design, and all of the dimension make this card fantastic! I can't stop staring at it. Please help me congratulate Candice here, and in the Facebook group.  To choose the winner, all entries (except those by Lesley and the current design team) were assigned a number, in order of posting. We used random.org to choose the winning number.
As we kick off a new year, we're also kicking off a new challenge. Are you ready? January's theme is Anything Goes! (I was debating between birthday and interactive cards, but then I decided to let you decide.) Choose any occasion and make a card using Heffy Doodle products (mostly). Then, enter it for your chance to win a £35 gift card! (That can get you quite a few goodies from the new release!) The challenge starts now in the Heffy Doodlers Facebook Group, and runs through February 2nd, 2020. I made an interactive valentine to help inspire you…
I have to tell you, my favorite item from the new release is the More Strips of Ease Die set. That might seem anticlimactic after seeing all of the darling new stamp sets, but this set is one I've been using a lot already! It's got several new sizes for sentiment strips, optional fishtail ends, and a zigzag edge, but the coolest dies are the ones that you might never notice. I used the medium slot to create the double slider mechanism for my card. You simply cut a rectangle to fit behind a popped up element on your card (in this case, the cloud at the bottom), and cut slits on the left and right sides. Loop a piece of thin plastic (cut from a sandwich bag, or some acetate packaging) through the slots and glue a pull tab to the back. Then you can attach elements to the plastic loop and they will travel as you pull the tab. Pop the mechanism up with a layer of foam around the outside edges, and then hide it with decorative elements. I used the sweet new My Little Angel stamps and coordinating dies, as well as the I Love You die set for my card. I also used a "pull me" stamp from the Interactively Yours set on the tab.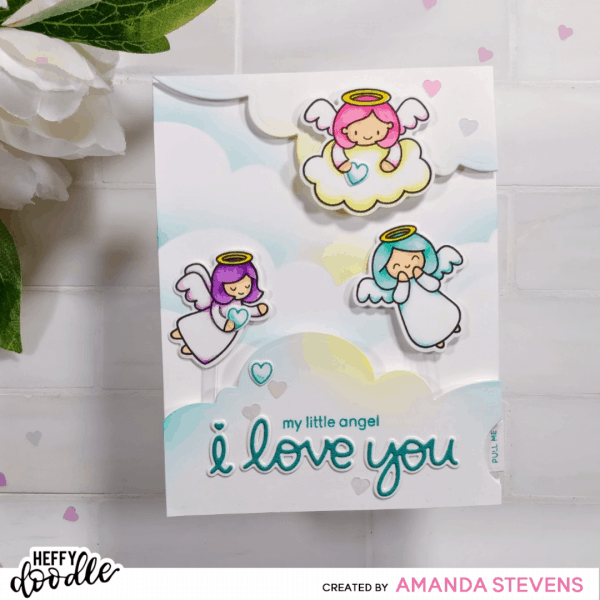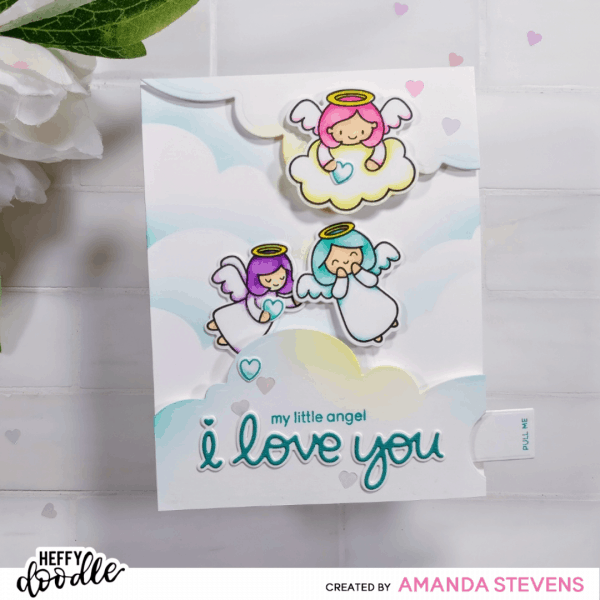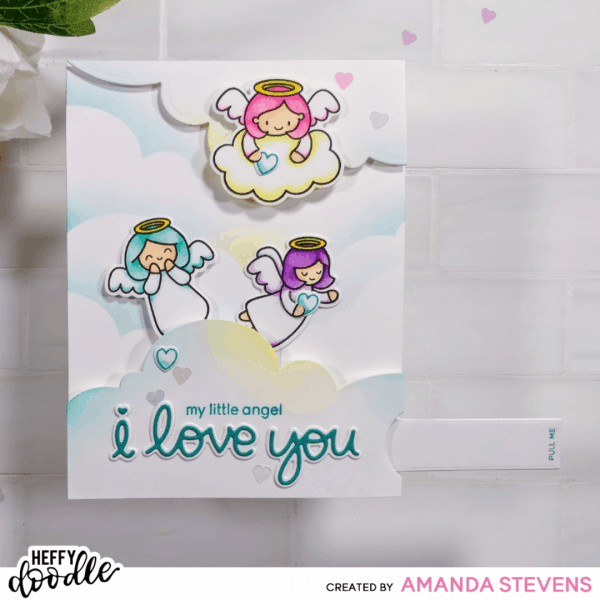 Alright, are you feeling inspired? Pull out your Heffy Doodle stamps and get started! To enter, go to the Heffy Doodlers Facebook Group and post a picture of your project in the January 2020 Challenge album (it will be pinned to the top). Enter as many cards as you like. The winner will be randomly chosen from all entries posted prior to Midnight (UT) on February 2nd, 2020. You are not limited to cards, feel free to post tags, scrapbook pages, home decor projects, etc. Just be sure the bulk of the stamps and dies used are from Heffy Doodle. Good luck my friend!
Questions, just ask. Need some more inspiration to get you started? Follow Heffy Doodle on Pinterest! You can find boards with themes and specific stamp sets. Got an idea, but need some new Heffy Doodle goodies? Head on over to the shop and check out the new release! Remember, you enter the challenge in the Facebook group, not here. And as always, let's keep it PG please 😉
I'll be back on February 4th to announce the winner and the next challenge. Until then, I'll see you on Facebook…
The Heffy Doodlers Challenge is not sponsored by, nor affiliated with Facebook. To be eligible to win, you must be at least 18 years old, and agree to allow Heffy Doodle permission to use your submitted photos for promotional purposes.