June 17, 2020
It's Time to Seal-abrate! Heffy Doodle Release! Sneek Peek Day 1!

Hello, dear Heffy Doodlers! It is time for seal-ebrations on the Heffy Doodle Blog today, as a new, fin-tastic release is coming really soon!
We are so excited to share all the new fun products we have for you, so stay tuned for four days of sneak peeks, followed by four days of full product reveals!
On the last day of our Reveal Days, that is on June 24th, pre-orders will open.
Pre-orders will ship by 3rd July, which is our official release date. We are also working with our retail partners, so many of them will also have the products ready to ship from release day!
YAY! Time to start working on your wishlists! 😉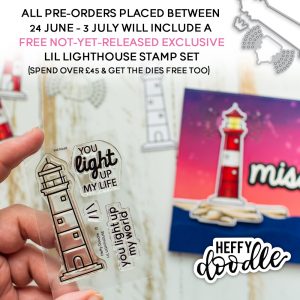 As always, with every pre-order you will get a free, not yet released stamp set! And if you spend more than £45 you will get the coordinating dies for free, too!
For this release we have the super fun Lil' Lighthouse stamp set – you will see how it coordinates perfectly with many of our new sets!  And it is a great set for light up cards, too!
Remember to come back every day for more sneak peeks and to share the news with your friends! Oh, and don't forget to let us know what products are favorites in the comments!
Alright, alright! Enough chit-chatting – let's get started!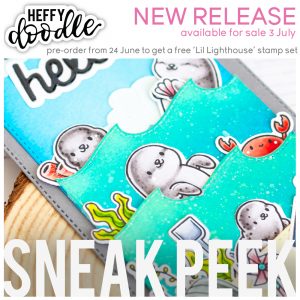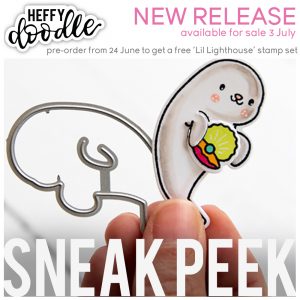 First off, we have the Sealy Friends Stamp Set. This set if full of really cute images and some seal-y punny sentiments, too! We love those chubby seals! The set comes with coordinating dies that can be purchased separately and will cut out all your images! Some of the dies have inner cut lines, so your seals can grab little objects as well!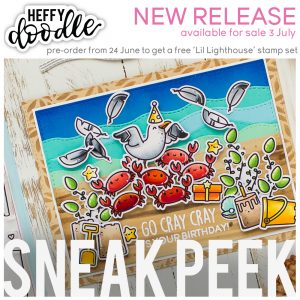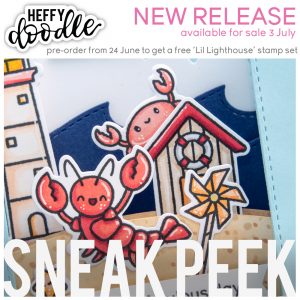 Next up, we have the new A Little Shellfish Stamp Set. More Crab-ulous images for your beach scenes! Oh, and remember the Lil' Lighthouse free set? We think it would be perfect to go with these images! Can you spot it in the sneak peeks? 😉 The A Little Shellfish Stamp Set also has a set of matching dies, that will make cutting out your images super easy!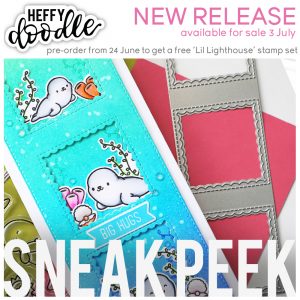 It's not all about stamp sets, though, and for this release we have some really cool dies for you! First, we'd like to introduce you to our new Stitched Slimline Trio Dies! Even more room for those cute critters! YAY!  One of the dies cuts three scalloped squares, for even more design possibilities!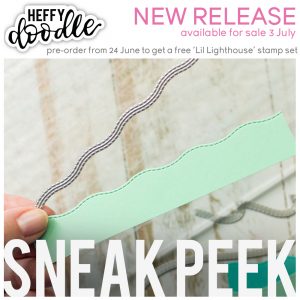 Next, we have the new Breaking Waves Border Dies. These are great for your scene building and can be used to create fun borders on your cards, too! They also coordinate with our previously released Stormy Seas stencils – don't you love it when everything is matchy-matchy?!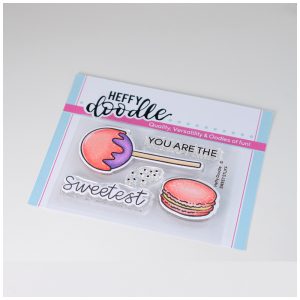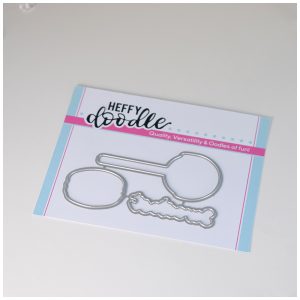 Last but not least for today is the Sweet Stuff stamp set and its coordinating dies! This was a freebie with our previous release and is now available for purchase to everyone! WHOOP, WHOOP!
Remember that, with the new release, every pre-order will receive the Lil' Lighthouse exclusive stamp set for free!  Pre-orders over £45 will receive the coordinating dies for free, too!
That's it for day one of our new release sneak peeks! Thank you very much for joining us and don't forget to share this post with your crafty friends and come back tomorrow for more!