May 9, 2020
Interactive Big Bug Hugs – Magnetic Movement
Hello Heffydoodlers! Welcome back to the blog and thanks for stopping by – Ali here with some interactive fun today! I have used the very cute Big Bug Hugs stamp set and the Gnome Matter What Stamp set along with an essential stamps set if you like making interactive cards – Interactively Yours  to make this magnetic movement card.  If you'd like to see my card in action, head over to my Instagram page (I also have a tutorial showing how to make it on my Youtube Channel if you'd like to see the creative process from start to finish).
I colored white cardstock with Distress Oxide Inks (colors used are listed below) and die-cut using the Grassy Lass Border dies, and Metric Stitched Rectangles.I colored the images using Copics and die cut them with the corresponding dies.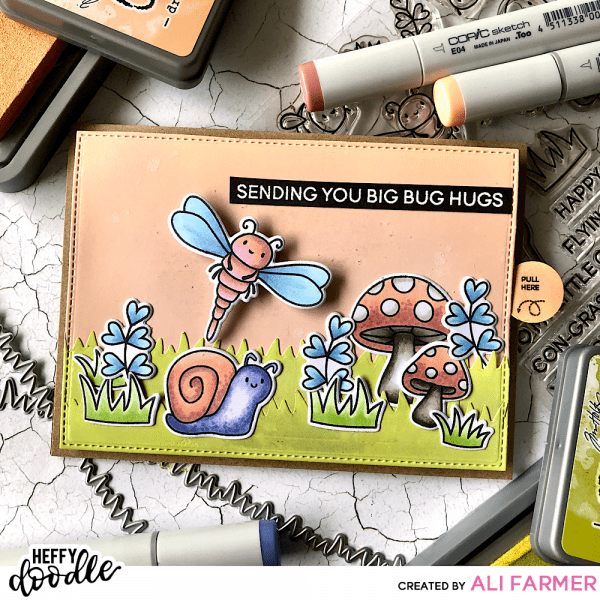 Grass : Twisted Citron, Mowed Lawn
Sky: Spun Sugar, Milled Lavender, Dried Marigold
Mushrooms, Critter bodies:E04, R02, E95
Flowers & wings: B32, B34, Boo
To make the magnetic interactive movement, I made a long tab out of super thick cardstock and glued a magnet to the end. I used some thin circular magnets I had purchased a while ago from a chain craft/homewhears store here in Aus (Spotlight). I attached the front panel to a kraft cardbase with 2 layers of 3D foam around the edge on the back, being sure not to put craft foam all the way along the right-hand side so that the tab could be moved around a little.  I glued the other magnet to the back of the Dragonfly (making sure it was the correct way up to 'attract' the magnet behind the front panel). I slotted the tab behind the front panel and then the dragonfly on the front so that it was attracted to the dragonfly through the front card panel. When you move the tab, the dragonfly 'follows' the magnet and spins & 'flies' around! It's a very simple mechanism really but lots of fun to play with!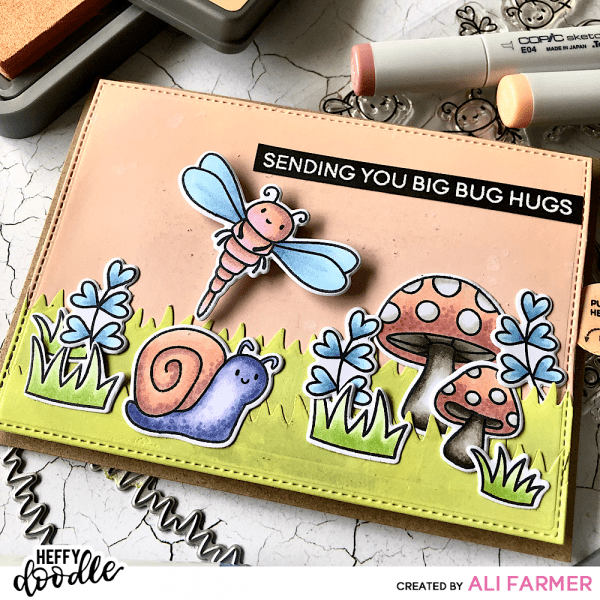 I finished the card with a sentiment from the set.
Hope you enjoyed the card and that it inspired you to try an interactive card or two!
Ali xx