November 28, 2021
How to Make a Tea Bag Holder with Jenn Bena (Video)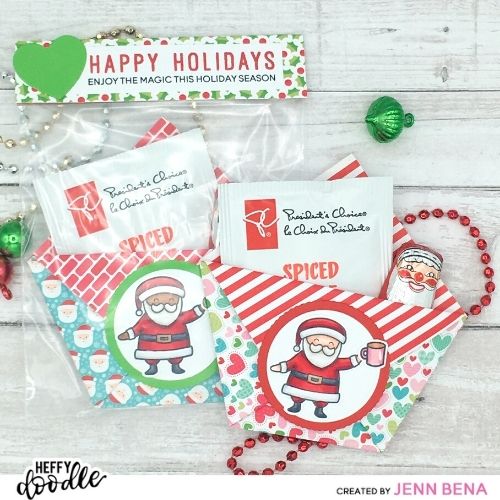 In today's cardmaking tutorial, Jenn Bena shares a tutorial for creating a tea bag holder. These easy to make tea holders are the perfect gift for someone special in your life this holiday season. Featured in this project are the Santa's Village, Elpish Antics and Holiday Sentiments Duo stamp sets, as well as the Mini Essential dies set. Click on the image below to watch the corresponding YouTube tutorial.
Below is a Copic Color Map showing all of the color combinations used for coloring the images in today's project.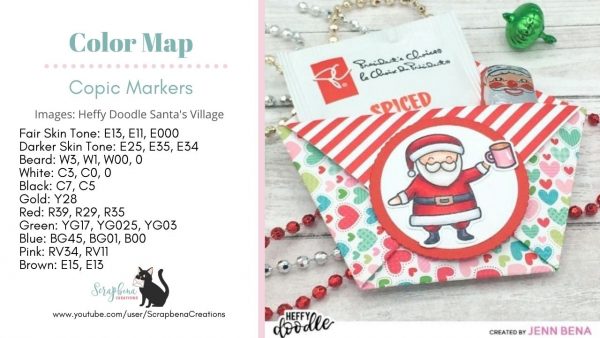 To create the tea bag holder, you will need one 6×6 piece of patterned paper. Have the main pattern you want showing facing down on your mat and then fold the paper from the bottom up into a triangle.
Turn the triangle upside down and fold the top outside layer down, leaving about 3/4" from the bottom. Then fold the left side in to the centre leaving about 1/8" from the crease at the top. Fold the right side so that it matches the top of the folded side on the left. Add adhesive to both sides and the folded top flap.
To make the topper, I used a 2 x 4 ¼" piece of patterned paper and scored it at 1". Add your tea bag and whatever other goodies you would like to put inside and then attach the topper to your bag. Decorate your tea bag holder with your favorite Heffy Doodle products!
We hope you will give these easy tea bag holders a try.
Jenn