November 1, 2017
Hooray! It's RELEASE DAY! Come see the full reveal!

Hello, hello my Heffy Doodlers! It's Lesley here, and I am so excited to be here today to unveil the BRAND NEW Heffy Doodle release!
In this new release, we are bringing you SIX new stamp sets, and four of these have coordinating dies! Over the last few days, Crystal has been whetting your appetite with lots of fun sneak peeks- but I think you're ready for the FULL REVEALS! Let's get started!
First up – let's talk winter and Christmas! We have got…
ELFISH ANTICS 
This set has got two cheeky little Christmas Elves, and they have a host of fun accessories to make scene building a piece of cake Christmas pud! This set has co-ordinating dies – and you can see just how jam packed this set it – so many great images for your Christmas card making! There is a giant candy cane, a gift, a stocking, a fun toy train and carriage (which can be stamped many times to make a longer locomotive!). There is also a Jack-in-the-box, a mistletoe image and a Christmas pud, along with a sweet mug – perfect for those winter hot chocs! There are also some images inspired by the movie 'Arthur Christmas' – some wrapping paper, a tape dispenser and a Naughty-or-Nice scanning machine! We have created a separate stamp for the pointer so you can decide if it points to the naughty or nice section on the device! Another fun element in this stamp set is the addition of ice skates – allowing you to get even more diversity! Along with the images, we have a selection of sentiments to help accompany your cute elves as they get up to their mischievous antics!

Everybody knows that Christmas cards are fun to make – and it is even more fun when you have the perfect greetings! Let me introduce you to…
ELFING CHRISTMAS WORDS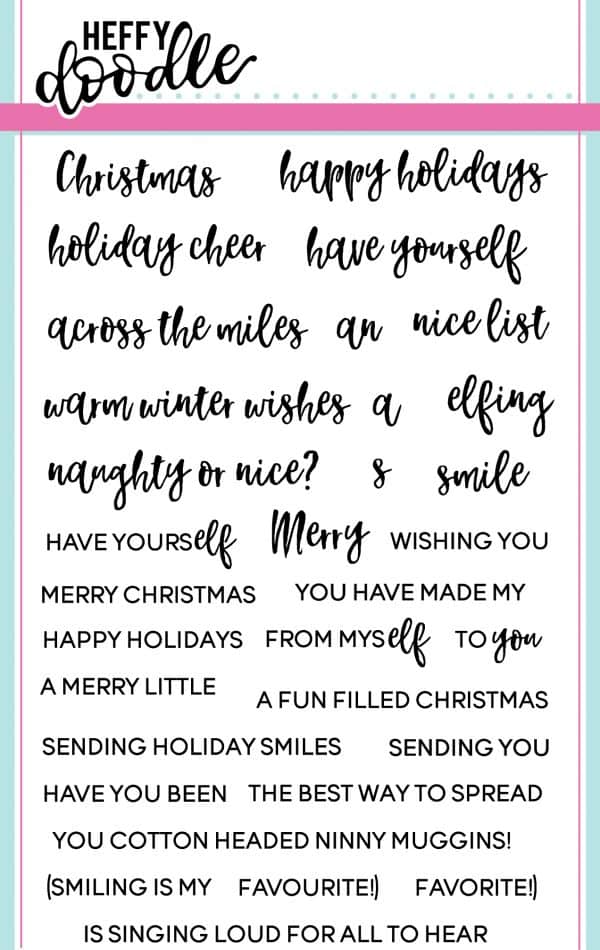 This set is going to be a must-have if you enjoy making Christmas cards! We have mixed up a fun, whimsical handlettered font with a clean-and-simple basic font – and they go perfectly together like Turkey and Ham! Of course this set will give you some of the essential messages such as Merry Christmas and Happy Holidays, but you will also love having some more versatile messages too, such as Sending Holiday Smiles which can be paired up with Across The Miles – perfect for our not-so-local friends that are across the globe. Speaking of which – it was important to us that we include both spelling variations of the word favourite/ favorite – so we can enjoy this sentiment no matter which side of the pond we live on!

Next up, we have another set would be great for Christmas, but not exclusively so. It could also be used for generic cards, giving you extra versatility- which we think is pretty COOL! Introducing…
WARM HUGS
This set is a whole lotta fun – and there is lots of ways to stretch your stamps to get more mileage out of this set! We have both a boy and a girl image in this set – but we also have a cute little baby image – all bundled up. The snuggly baby can be set on the sled, or you can tuck them behind the boy or girl to make it look like baby is being carried on their backs! Of course we have an igloo image, and a fishing hole, but we have some extra elements that make this SUPER fun! Do you see the water ripple stamp? Well, this can be stamped either inside the bucket or inside the fishing hole, to give you a different look. Whats more, we have a fun little oval die which can be lined up with the outer stamped water ripple, and it will cut along the innermost curved line. You can tuck things into the slit, such as the little fish – or even some other elements! For those who don't have the dies – we have included a little fish head which can be stamped onto the image so it still gives the look of a little fish poking its head out.  We also have a fishing pole and a fishing line – these can be assembled together with the cute little hook, however, both the pole and the line can be given a completely different look – simply add the spearhead images on the top to transform them into spears instead!  Also in the set is some versatile snowflake images and a range of fun sentiments to help complete your projects!

Now it's time for something a little bit different! One of the joys of making handmade cards is being able to add personalised messages and names to your project. For this, we have a fantastic alphabet set – say hello to …
JET ALPHABETTERS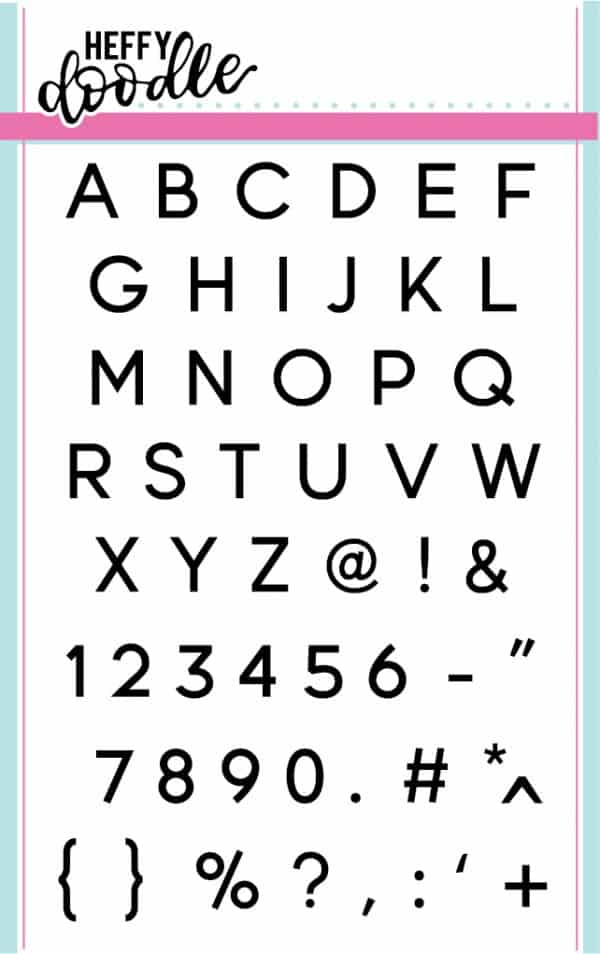 Whether adding names to your projects, or creating your own custom made sentiments, this stamp set is sure to become a favourite. It has the full alphabet, numbers and a host of other symbols to give you added versatility. Each letter measures about 1/2 inch tall – perfect for cards, tags and scrapbook pages too!

Let's take a look at the remaining two stamps set – both of which have coordinating dies. First of all, a stamp set that is sure to get you in the mood for the most romantic holiday of the year! Take a look at …
BEARY BIG HEART
This set once again mixes the funky font with a plain-and-simple font to give you lots of greeting options for both Valentine's Day cards, and some every day cards. With the addition of the wife, husband, fiancé, fiancée, boyfriend and girlfriend – this set can be used to make cards for those special people in your life. There are three sweet bear images which are the stars of this stamp set – and there are lots of LOVELY accompanying images such as the diamond ring, tulip, heart shaped box of chocs, a bunch of flowers, and even a sweet little greeting card! There is also an umbrella, a teeny pearl bracelet, a flower and bow image which can be used to accessorise your lady bears – or the bow can be used as a bowtie to create a handsome boy bear!  We love this set BEARY much – hope you do too!

And last, but not least, we have another awesome stamp set which is sure to make you giggle  – it's full of puntastic fun! Take a look at…
GEOLOGY ROCKS
In this set, we have two larger images – firstly a volcano, with accompanying lava droplets and a stream swirl image. The coordinating steam dies have two options – you can either cut out around the stamped swirl image, or you can use the stitched swirl die to create stitched embossed indents into your card! There's lots of funky sentiments to match your volcano such as Erupting With Pride, Have a Lava-ly Day and You Magma Me So Happy! The second larger image is a big diamond, and there is a whole bunch of smaller gems in this set to give you great variety. If CUTE is your thing, then just take a look at the face stamp – you can use this fun stamp to give your volcano and diamond some personality! 😀 And when it comes to dies – we are giving you a few options – you can either stamp the face on a separate piece of paper and cut it out with the coordinating die before adhering to your project, OR you can use the cut out face die to simply cut some eyes and a sweet smile into your images. Why stop at volcanos and diamonds… you can also use the stamps and dies to add sweet faces to lots of images!

So there we have it – the full reveal!
The  wonderful news is that these are all available to purchase immediately – so head on over to the Heffy Doodle store, or visit our retail partners.
What we want to know is – which is your favourite?
If you would like to see the new release in action – you should follow us on Facebook as we are planning on having some Facebook LIVE shows. We want to give you guys an opportunity to get further inspiration with the new release, and also have a chance to ask any questions you may have.
Don't forget to come back on Saturday for our BLOG HOP to celebrate the new release!
Until next time – HAPPY CRAFTING!
x
Lesley