February 15, 2018
Hey, Groovy Chick!
Happy Thursday, Heffy Doodlers!
Thanks for stopping the blog today to check out my card that uses the Eggcellent News Stamp and Die set.
If you haven't seen a chicken wearing glasses, then clearly you are missing out on life. That stamp image is seriously so cute.
So today's card is really simple! Because let's be honest–I am not at a point in my life right now where I have the patience for anything complex or time consuming. If you didn't already know this about me, I am sort of an accountant, and so tax season is happening for us right now in the states and it is EXTREMELY busy for anyone in the financial industry.
But anyway, back to the card!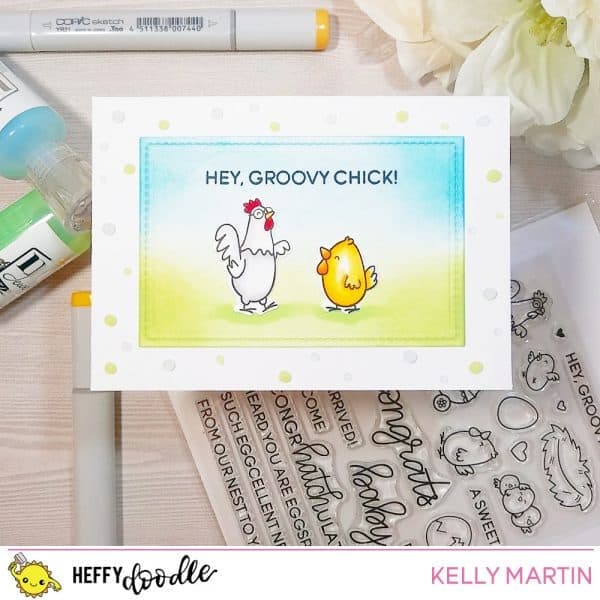 I stamped out my images in a comic safe black ink. After the images were stamped, I colored them with my copies and then die cut them using the coordinating die set. The Heffy Doodle dies are so creatively designed, because a lot of the sets actually cut out spaces in the images so that you can tuck other images underneath/on top/inside them to create a really cohesive scene. I did not take advantage of that feature of the dies today, but the little chick on my card actually has a slit cut under his wing so you can tuck something up underneath.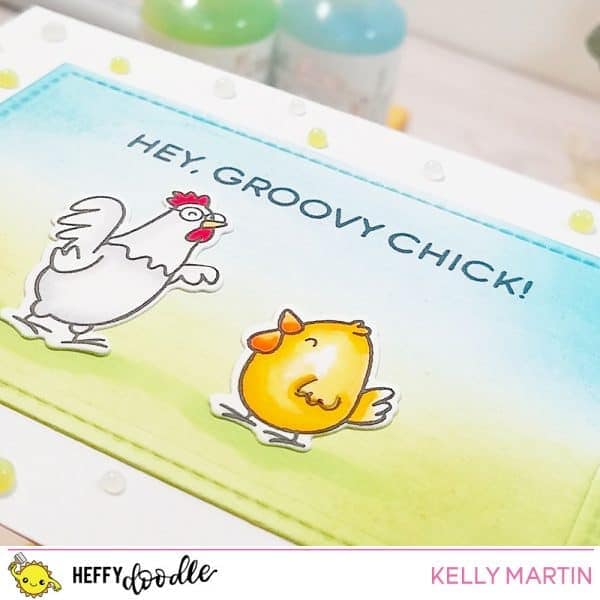 I knew I wanted this to be a 4-bar card since I wasn't using very many images, so I went ahead and cut my card base (3.5 inches by 5 inches) and then trimmed down a proportionate second panel for the actual scene. I ink blended some Broken China, Twisted Citron, and Peeled Paint Distress Oxide inks to create the look of sky and grass, and then glued my images on to the scene panel. I added the sentiment in black ink, and finished off the scene by adding some shading underneath the images with a comic marker–so it didn't look like my chickens were floating in mid-air!
I glued my scene panel on to the card base and then finished off the card by adding drops of Nuvo Jewel Drops to the card base in Key Lime and Sea Breeze. I felt like adding these drops really tied the whole card together, especially in the color scheme.
So there you have it, friends! A really simple card but a super cute affect. Who could ask for more?
Thanks again for stopping by, and have a crafty day!
Hugs,
Kelly