August 5, 2020
Help Name Our Cardstock!
Hello Heffy Doodlers!
Last year we introduced some 8.5″ x 11″ coloured cardstock to our catalog, and we asked our Heffy Doodlers over in the Facebook Fan group to suggest names for the cardstock colours. We are so delighted to be introducing TWELVE new colours to our cardstock range – and YOU could help name them!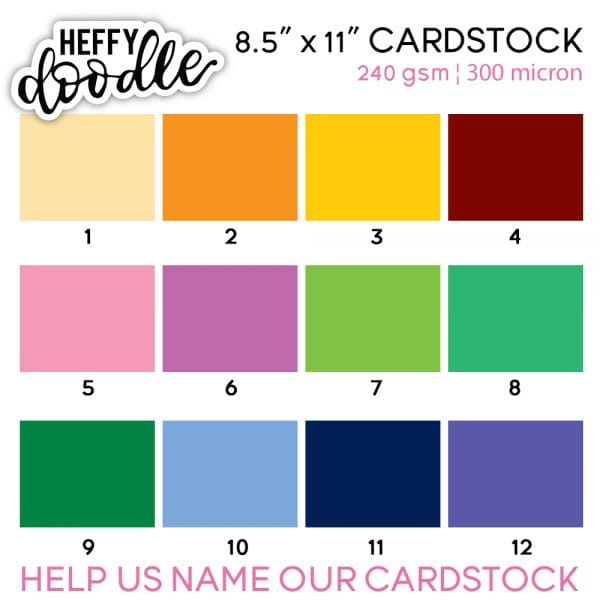 Here's the details on how you can submit your name requests, and how you could be in with a chance to win a voucher to the Heffy Doodle store
Click the link below, which will take you to a google form where you can submit the cardstock name suggestions.
You can submit multiple suggestions for each colour, and submit as many forms as you like
If we decide upon a name that you have suggested, you can be in with a chance to win a £10 voucher for the Heffy Doodle store.
If the same name is chosen by multiple people, they will be entered into a draw and a winner chosen at random.
What are you waiting for!? Simply click the link below and starting suggesting names!
Once the cardstock has been named, and we have printed the packaging, these beauties will be added to the Heffy Doodle store. These new colours will be available to buy in packs of 5, packs of 10, or you can purchase this set of 12 colours in our Mulit-Pack Mix 2 (24 pack, 2 of each 12 colours). We can't wait to hear all your suggestions!