March 1, 2018
Hello Squeakheart – by guest designer Cathy Zielske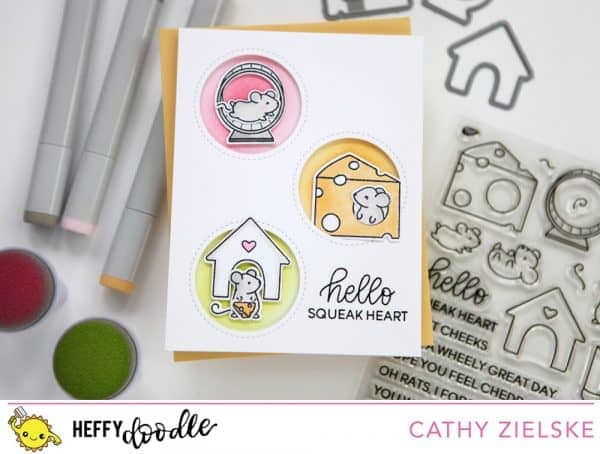 Hi Heffy Doodlers! It's Cathy Zielske here and I'm thrilled to be doing my first ever guest post for Heffy Doodle. Today I'm working with the charming Hello Squeakheart stamps and coordinating dies. The mice, the cheese, the punny sentiments—what is not to love?
I'm a relatively new card maker and I'm always looking for ways to create simple cards that let me dabble in a few fun techniques. I love this stamp set because it let's me play with my Copic markers and you really don't need a ton of colors to make these sweet images look terrific.
One of the fun things with the dies is that they cut out slots for your little mouse to peek out from inside the cheese, and their little paws also pop out for holding things, like—what else?—cheese!
I recorded a video of my card making process. I'm still learning so much about card making and am loving this whole crafty venture! I've been a scrapbooker since the beginning of time and now, card making is infusing my creative world with so much inspiration. Thanks to Heffy Doodle for inviting me to play with this adorable stamp set!
Thank you so much for watching today and thanks again to Heffy Doodle for letting me create with this sweet set.
Connect with Cathy Z!