June 14, 2019
Hello Friend | Heffy Doodle + Therm O Web Collaboration
Hi everyone! Ardyth here and I'm delighted to have been asked to join in the celebration this week with Heffy Doodle and Therm O Web! I had a ton of fun making a very glitzy friendship card using some new-to-me products.
I started by creating my background with Deco Foil Transfer Gel and the Circles of Life stencil. I used Purple Tape to attach the stencil to my panel and then spread the Transfer Gel over top, using a Stencil Pal. Wow! Does that tool ever make it easy to spread the gel evenly and smoothly!
After it was dry, I used Summer Rainbow Deco Foil Transfer Sheets and my new Minc to apply the foil.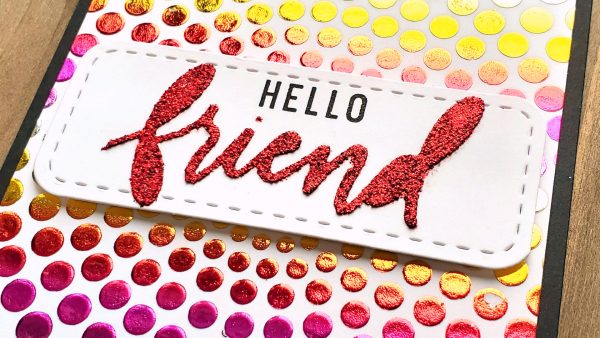 To create my sentiment strip, I cut off the round end from one of the bookmarks in the Mark My Words die set. I created a homemade cardstock stencil with the Heffy Cuts Friend die and then spread Gina K Glitter gel over top. Despite my lack of experience and my homemade 'stencil', I ended up with a pretty clean result. I used my craft pick to remove a few stray bits of glitter.
Finally, I performed some minor stamp surgery on one of the sentiments from Special Day Sentiment Duos and used my Mini MISTI and black ink to stamp it.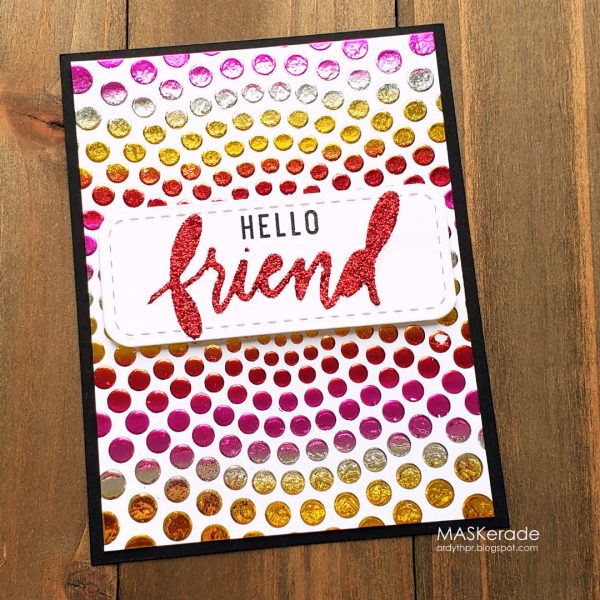 I popped the sentiment strip up over the background and glued the whole thing to a black card base.
I made a quick video: https://www.youtube.com/watch?v=MR0j7Go-gXQ&feature=youtu.be
Thanks for dropping by, and thank you to Heffy Doodle for including me in this fun and inspirational collaboration!