December 29, 2020
Hello 2021 with Isha Gupta
Hello everyone! Isha here with you today 🙂 Are you ready for year 2020 to pass by and say hello to 2021? This year was full of happenings, we learnt the new way of living. It was like going back to the basics: cook, work, enjoy home and family. Anyhoo hoping the new year brings some good news 🙂
To start, I simply sponged distress oxide inks in rainbow colors with a light pressure onto a white layer. Put the Twinkle Twinkle stencil on top, add some masking tape from behind so the stencil won't move. Sponge some more of the same inks as before. Now mix some fine glitter into translucent embossing powder. Spread this through the stencil. Remove the stencil and let it dry. Once dry, flick some water and dab it using a kitchen paper.
Stamp the numbers from the Rascal Alphabetters stamp set, die-cut using the coordinating dies. Die-cut the word 'HELLO' once with white and also gold cardstock using the Hello Heffy Cuts.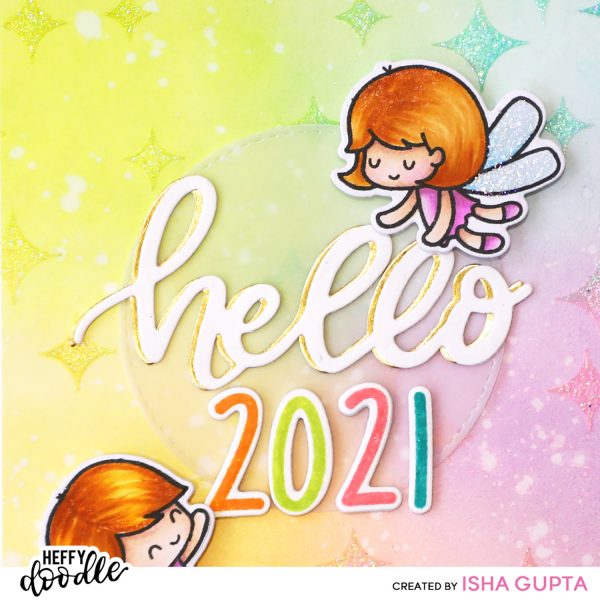 Stamp the fairies onto Alcohol Friendly cardstock using the Absotoothly Awesome stamp set. Color using copic markers. Die-cut using the coordinating dies.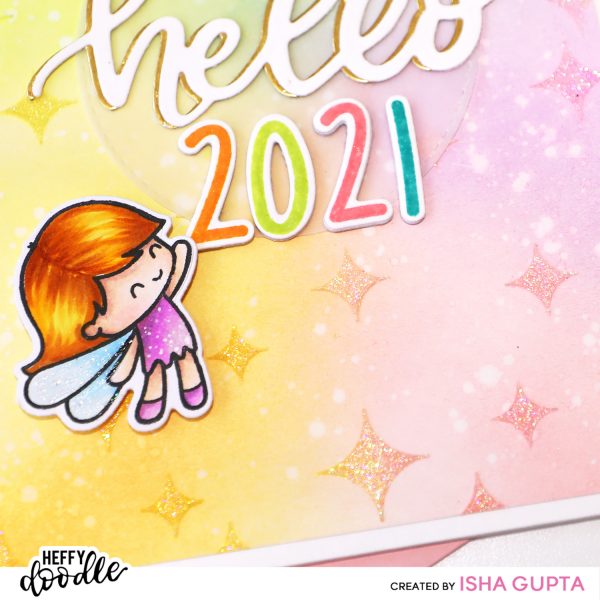 Die-cut a circle from vellum using the Stitched Circle dies. Adhere to the inked layer. Adhere all the elements to the mat layer. Adhere this layer to the card base.
To finish, add nuvo glitter drops sparkle onto the fairy wings.
Hope you enjoyed this project. Thanks for dropping by!
Happy New Year everyone.