December 31, 2020
Happy New Year


Hello and Happy New Year! Davina here on the blog with you today, and I feel so lucky to share this New Years Day card with you! I have a Frozen Candy hued January Color Snapshot to promote with everyone, and a Sugar Plum Fairy inspired slimline card using the colors.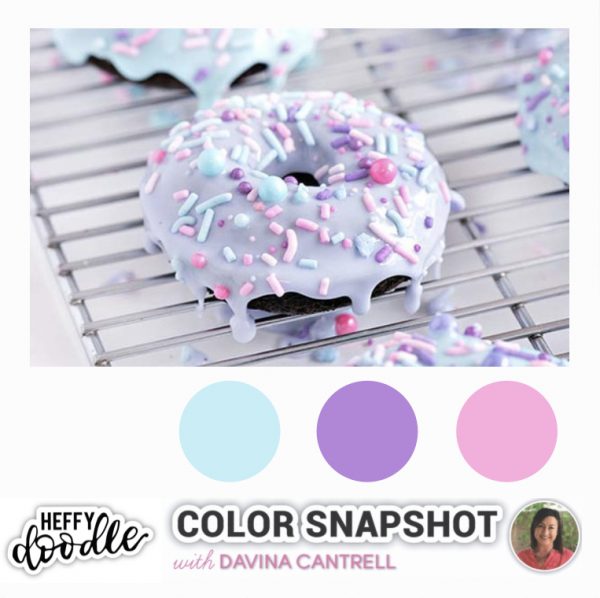 I wanted to create a Candy Land type vibe with a Fairy Queen. So it required the combining of many stamp sets, which is one of my favorite ways to create. I went through my collection of Heffy Doodle stamps and pulled out The sets that had candy and rainbows. I narrowed it down some more to just a few of the larger images, and got to work. I used the Fairy images from Absotoothly Awesome on my last Christmas card, and didn't want to use the same characters, so I created my own fairy Queen.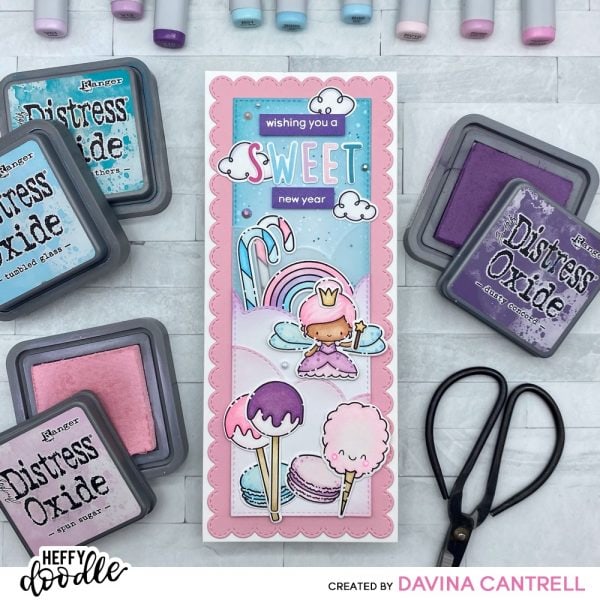 I stamped the bride from Happily Ever Crafter and the crown and wand from Absotoothly Awesome. Then I stamped the nice large dragonfly from Big Bug Hugs. After coloring with my copic markers, and die cutting the stamped images, I trimmed the body away from the wings, and adhered them to the back of my bride upside down. Then, I stamped the rest of my images from Elfish Antics, Treat Yo Self, Sweet Stuff, and Fluffy Puffy Unicorns.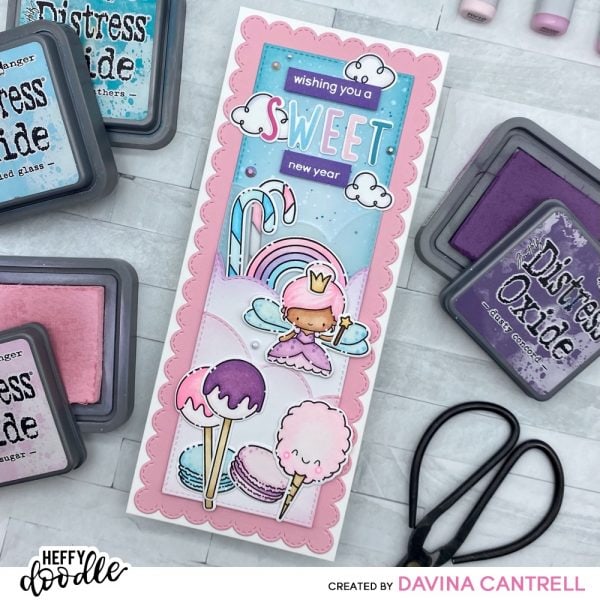 I used the Bubblegum colored cardstock, and die cut a beautiful scalloped panel with the Scalloped Slimline Pull Tab Dies. Then I cut 2 Bristol card stock panels, and one vellum, with the smallest stitched layer from Stitched Slimline Trio. I cut down each panel to form a cloudy layered scene using the Silver Lining Cloud Borders. I was able to get two layers from 1 panel  of Bristol paper. Using Distress Oxide Inks I blended a blue sky and pink and purple clouds onto my panels. I assembled my layers while tucking my images into the scene.
I heat embossed my sentiments onto strips of Grape cardstock, and stamped the word "sweet" using the super fun Rascal Alphabet. I created a visual triangle in the sky area with some puffy clouds, and layered my sentiment across the sky. I finished this off by adding some sparkling "jewels" that I had in my stash that are the same candy colors.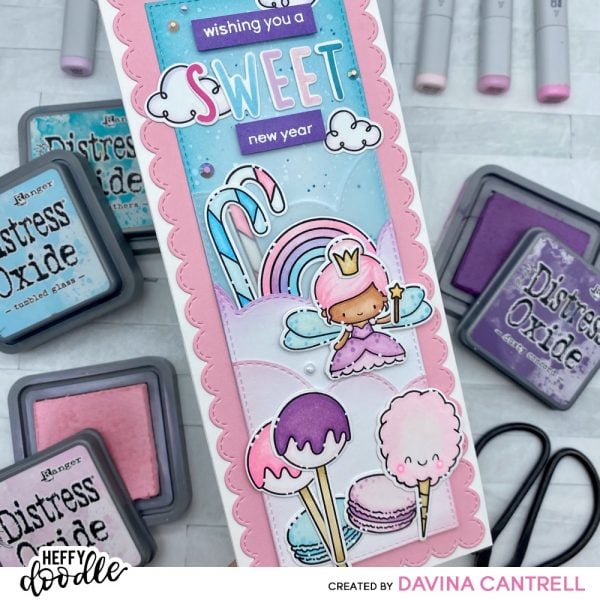 Thank you so much for stopping by, and I wish you the best in the new, hopefully better, year!
Davina