October 7, 2022
Halloween Trifold Card

Hi Heffy Doodle friends! It's Jarle here. I'm so happy to be sharing my first card as a Design Team Member for Heffy Doodle. Since I LOVE creating little scenes, I will start a 'Sweet Scenes' series here on the Heffy Doodle Blog.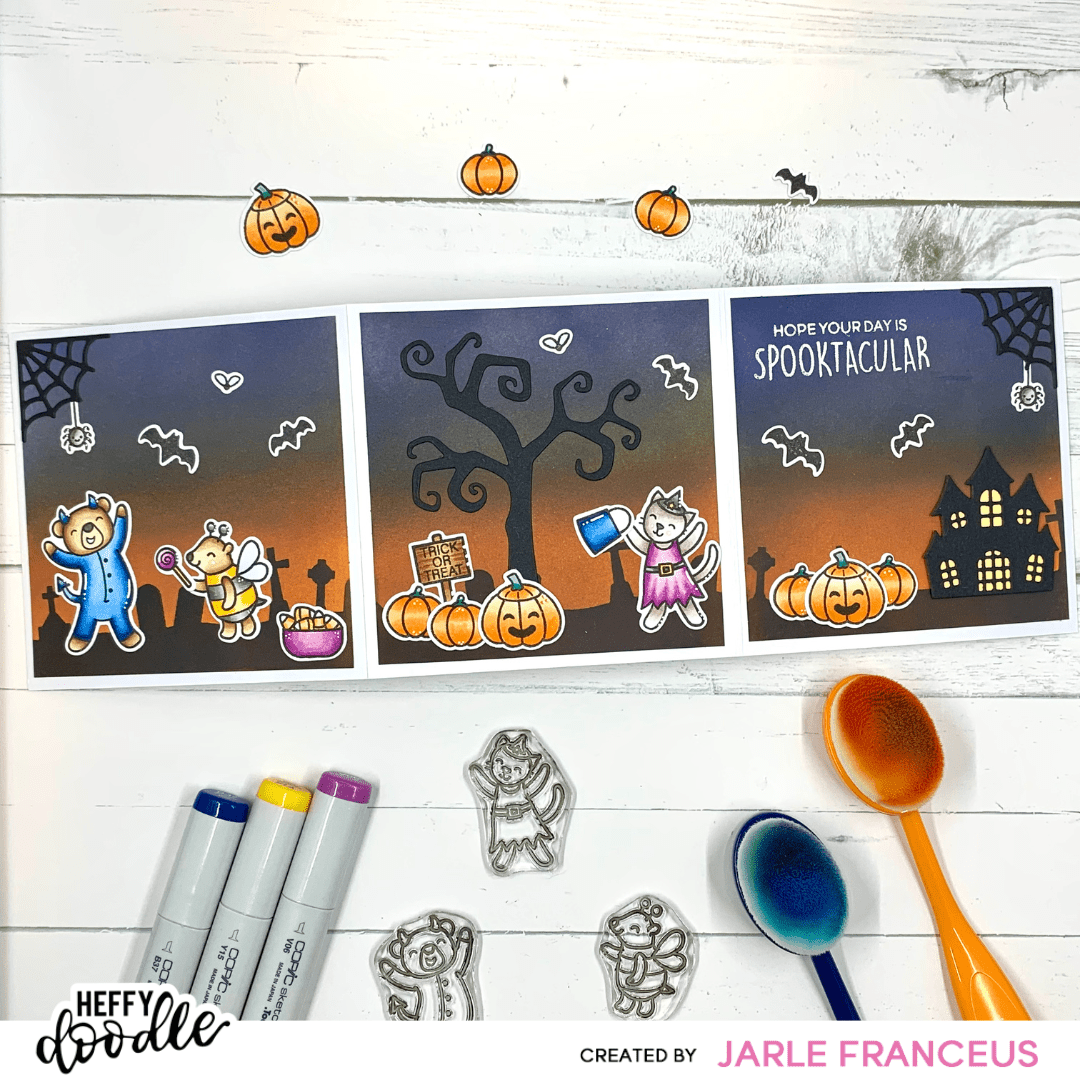 First of all, I started with my trifold cardbase. I trimmed a piece of 110lb white cardstock to 4 by 8,5 inches. I scored at 4 and 8 inches. I put some double sided adhesive on that little 0.5 inch flap. Then I trimmed down another piece of 4 by 4. I put the left edge of the little piece on top of that 0.5 inch flap. This created a long 4 by 12 trifold card as my cardbase.
I stamped down my images from the Costume Critters set and the Let's Hang Out stamp set. I used MFT extreme black ink, alcohol marker friendly paper and my Misti for this.
These are the Copic Markers I used for coloring all my images:
'Devil' Bear: E74 – E33 – E31 – E30 / B37 – B34 – B32
'Bee' Bear: T5 – T3 – T1 / Y17 – Y15 – Y13
Pumpkins: YR16 – YR14 – YR00 / G17 – G02
Cat: W3 – W1 – W00 / V06 – V05 – V01
Spider: T3 – T1
Blush: R30 – R00
Wings: BG000 – BG0000
Wood: E37 – E35 – E33
Purples: V06 – V05 – V01
Blues: B37 – B34 – B32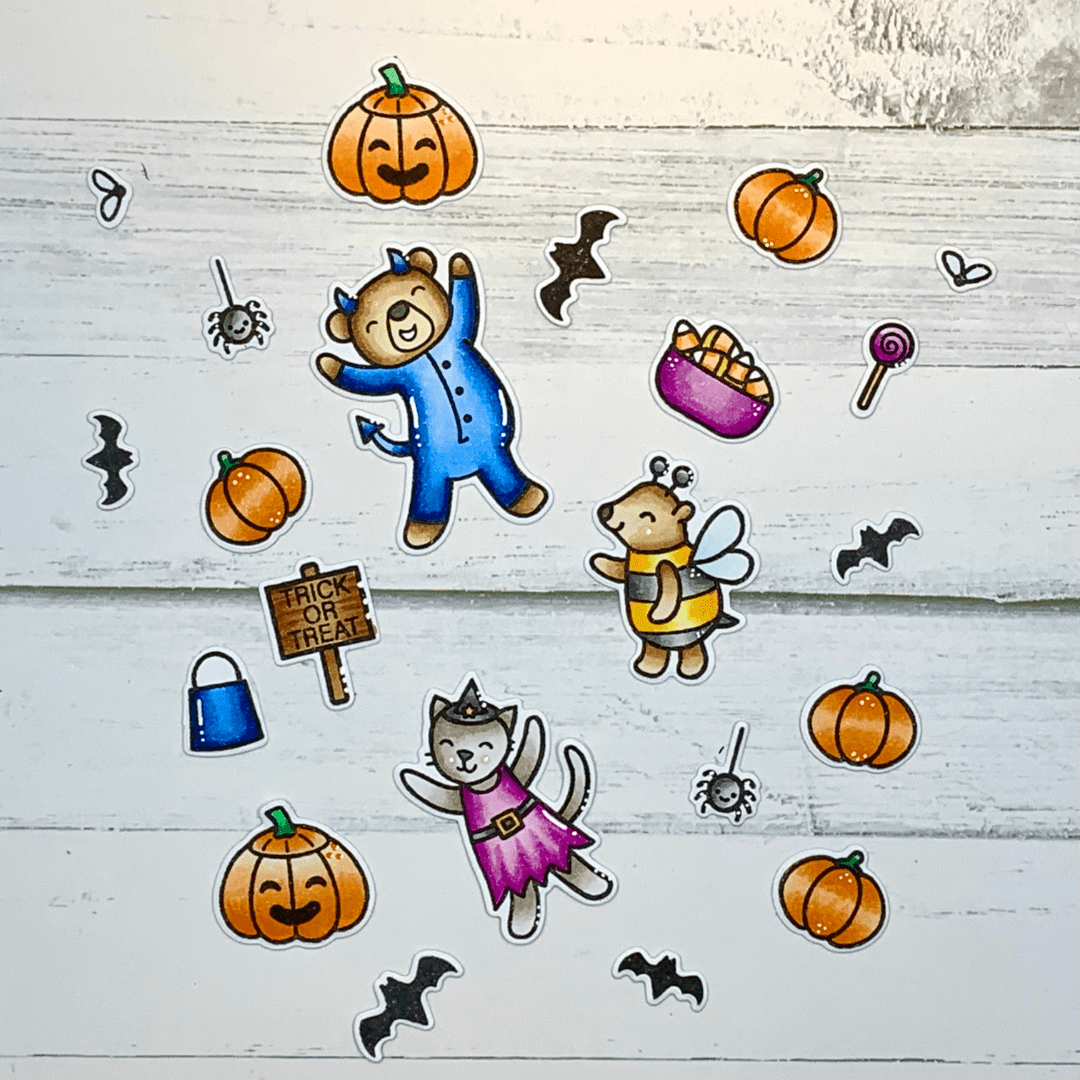 After the coloring was done, I just added some white gelpen details. I die cut every image with my Heffy Doodle Mini Diecutting Machine.
I also die cut a few images from the Elm Street dies out of black cardstock.
Then it was time for the stenciling. I trimmed 3 pieces of Bristol Smooth cardstock to 3 and 3/4 by 3 and 3/4. First I ink blended the 3 pieces with Ripe Persimmon, Black Soot and Chipped Sapphire. After that I put my Sleepy Hollow stencil on top and went over it with the Black Soot. I shifted the stencil a bit so it would be 3 different panels.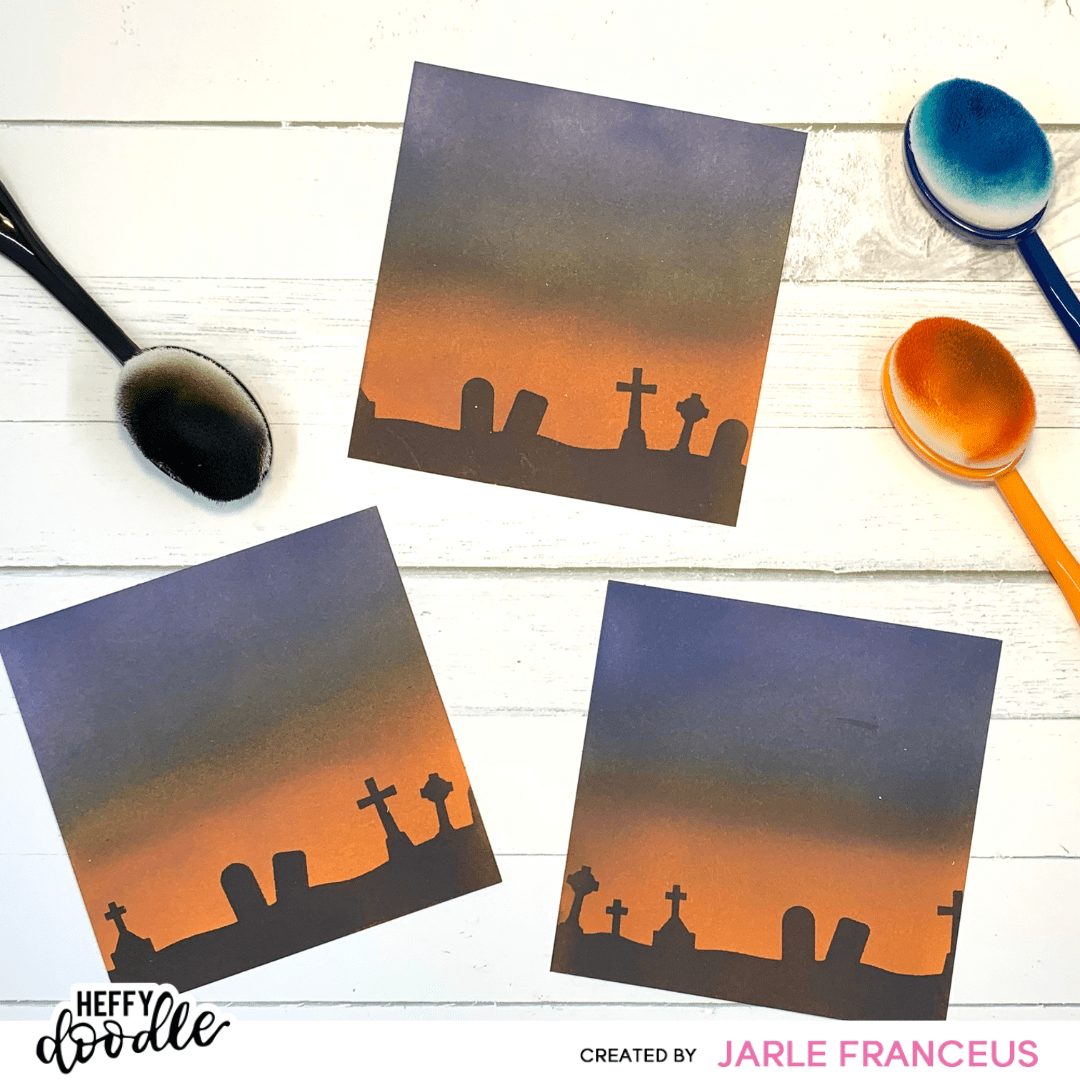 I let it dry a bit before heat embossing my sentiment on the 3rd piece. I prepped it with an antistatic powder tool, stamped my sentiment with Versamark ink and sprinkled on my white embossing powder. After heat setting it with my heat tool, I got a bright white sentiment!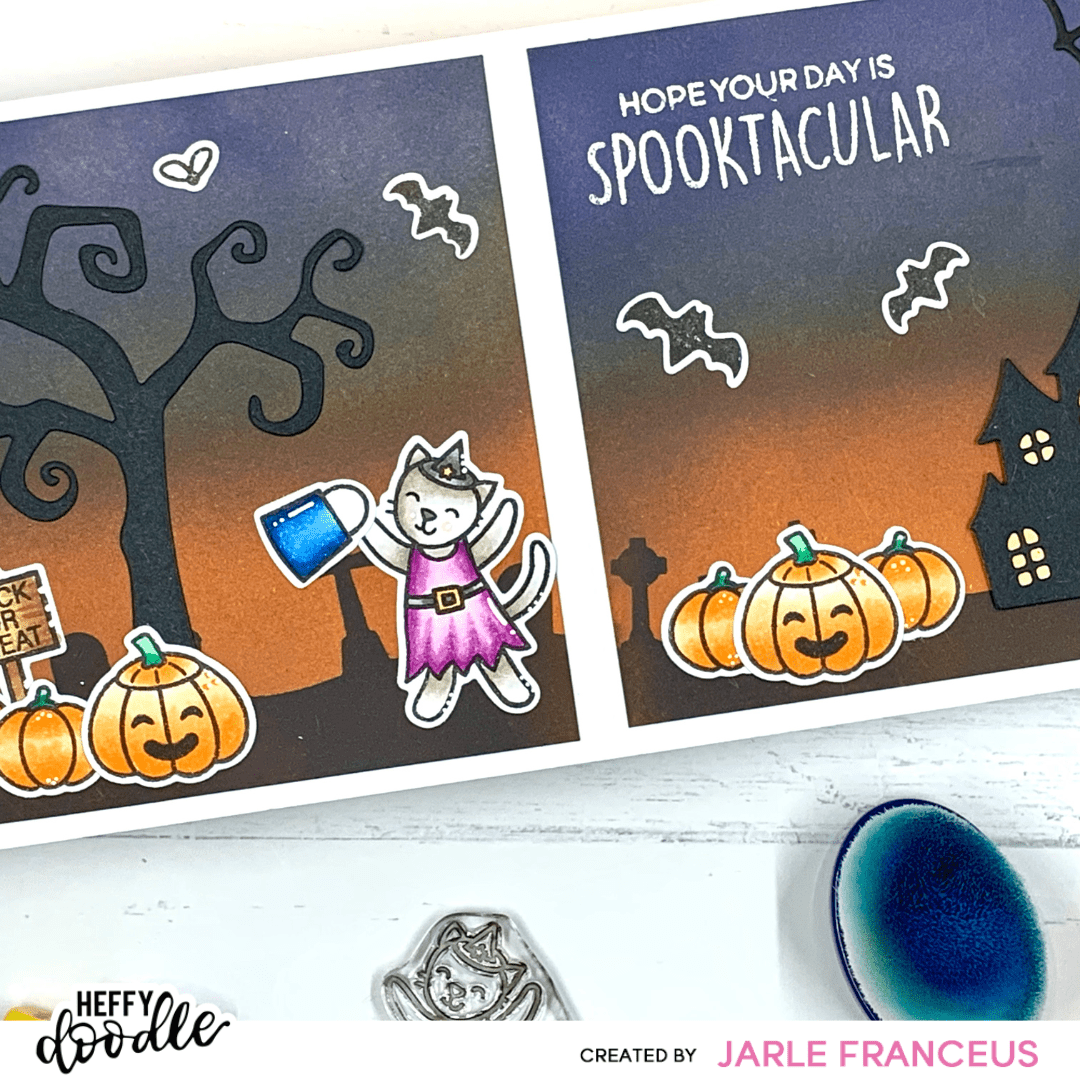 I glued down the 3 panels on top of the trifold cardbase. You can see that it has this little white border around the 3 panels. I really like that look. Then I put every colored image and every die cut item on my panels with liquid glue. I didn't put anything up with foam squares or my trifold card couldn't close properly.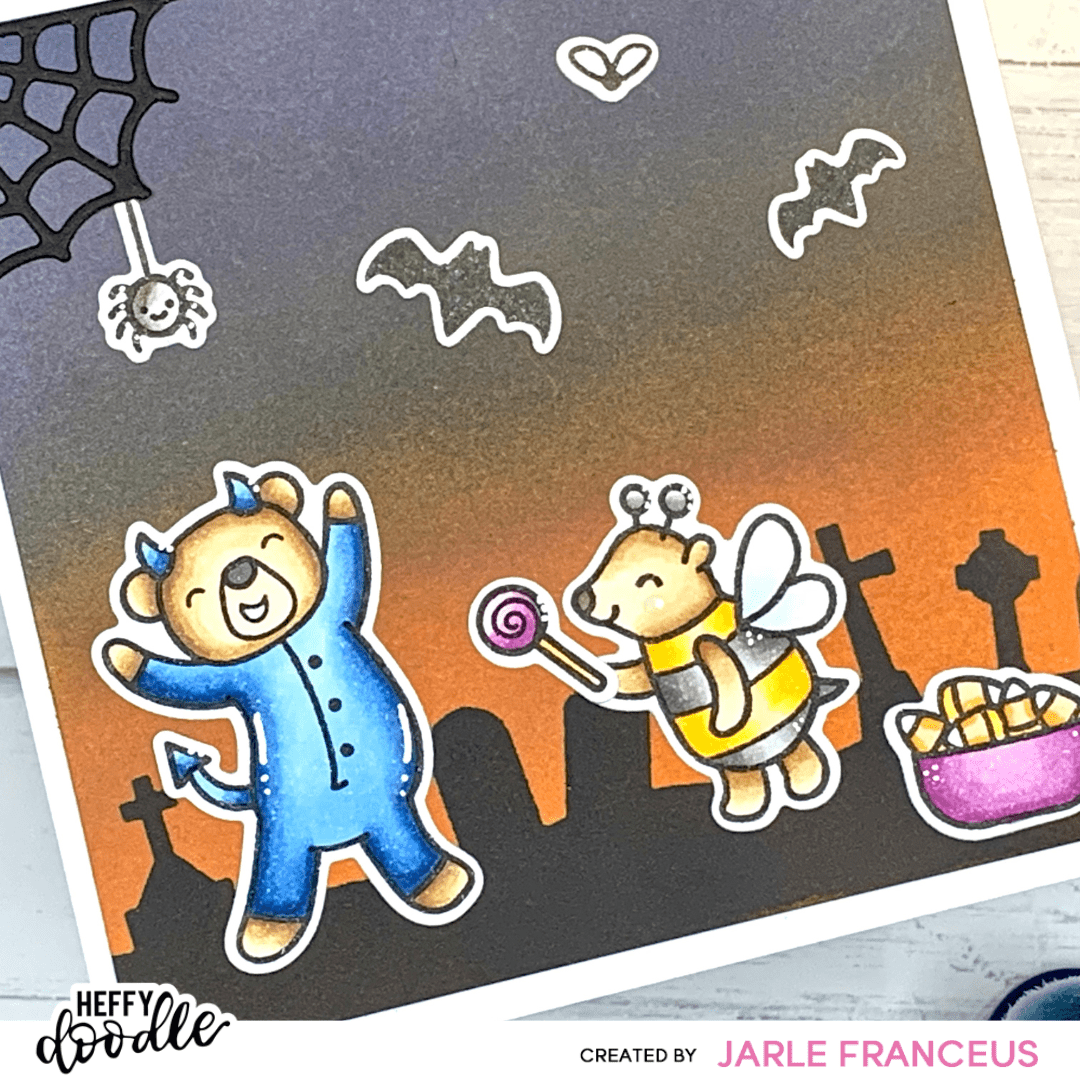 I really hope you like this inspiration. Thank you SO much for stopping by the Heffy Doodle blog. You can always go to my Instagram account as well to see other cards I created! Have a great day! Love, Jarle x