November 14, 2023
Focus on Scripty Merry Christmas dies
Hello Heffy Doodlers!
It's Laura Rumble here for my first guest designer blog post. Here's a quick get-to-know-me…
I've been creating all my life. My favourite toy as a child was my giant paint palette from Father Christmas. In 2000, aged 14, I was diagnosed with M.E. and my life has been considerably slower and sleepier since then. I'm unable to walk more than a few metres at a time and haven't been well enough to leave the house for more than a year. Through all this, crafting has been my life saver. I may not be able to do much BUT I can spend small chunks of time die cutting, stamping, gluing, playing with colour and creating. A little here, a lap tray in bed, ten minutes there, maybe half an hour sitting at my desk and not only do I have something physical to show but I also have had the therapy of playing with paper.
I have two projects to share with you today featuring the Scripty Merry Christmas dies. First up is a scrapbook layout.
I scrap in A4 these days as buying 12×12 albums was getting a little too expensive for me.  My style tends towards clean and simple and I'm a big fan of a white background.  This time I've gone for a really pared back color palette taken from the 6×4 color photo.  I knew I wanted to make a feature of the Scripty Merry Christmas dies so set about cutting a lot.  I'm not sure what the final count was but I cut plenty of the words and the shadows in both white and red cardstock and adhered them together mix and match style.  The red and white words were giving a slight candy cane vibe so I ran with that and adhered them to a panel of silver cardstock on an angle enhancing that red and white stripe feel.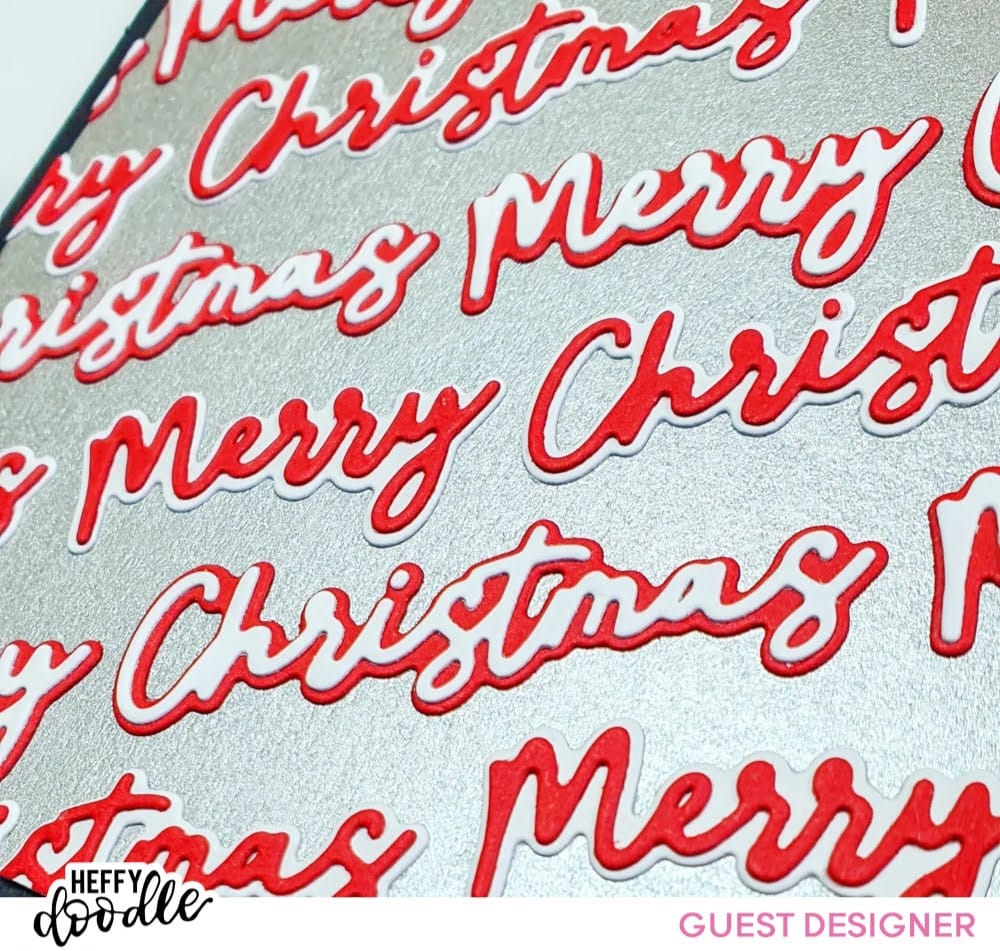 Now I had this panel and the photo I played around with the layout and decided a grid with bold black borders was the direction I wanted to take. I layered a smaller black and white photo on to black card and worked out what room I had left to fill.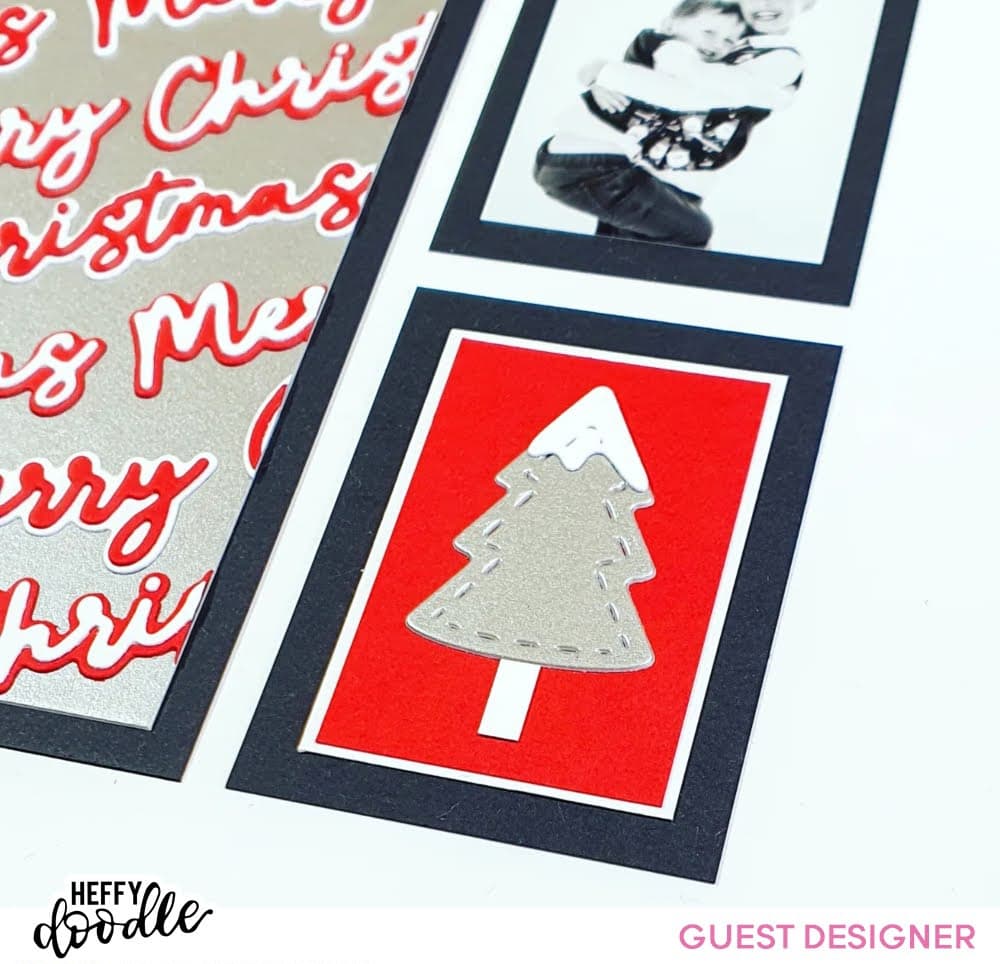 I made a block using the smallest snow-topped tree dies from the Alpine Valley die set. The stitching detail on these dies adds that extra special touch.
To fill in the gap left in my grid I used a row of the smallest white enamel dots from the Tinsel Town set.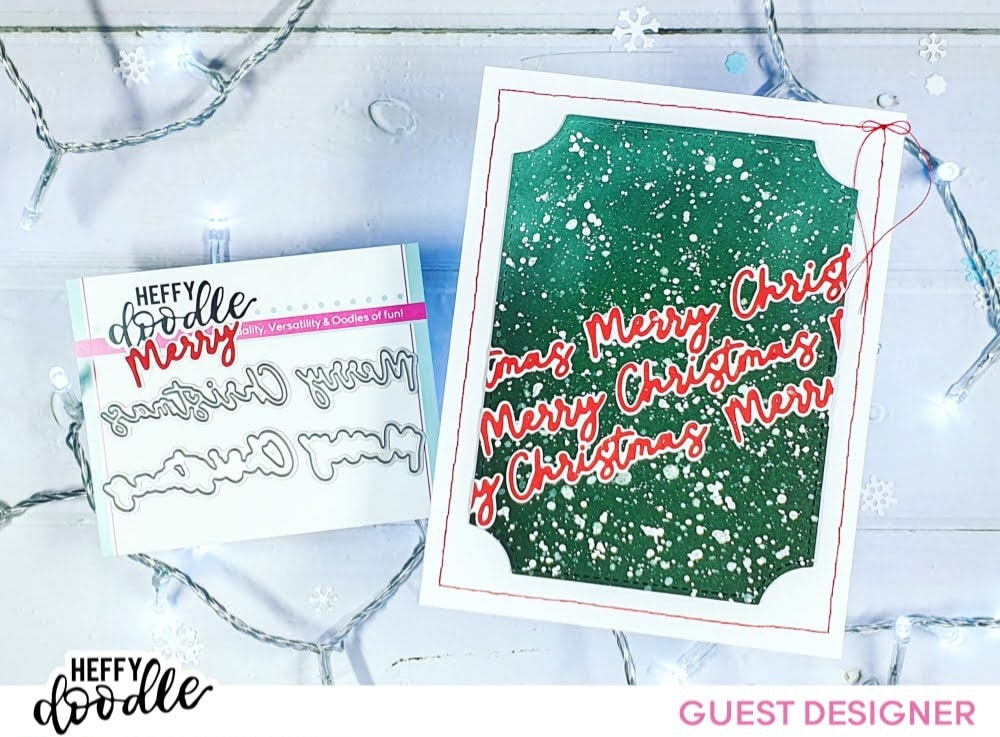 I had quite a few scripty Merry Christmas dies left over so I decided to make a card too.  I die cut a panel of green cardstock with a die from the Showtime Frames set and added a little ink blending around the edges.  I used darker ink towards the bottom of the panel and lighter ink to the top.  This die cut also has the signature Heffy Doodle stitching and ink blending over them makes them stand out even more.  I heavily splattered the panel with all kinds of white inks and shimmer sprays. I was aiming for a snowstorm effect on the green cardstock.
I then lined up some Scripty Merry Christmas dies across the panel.  This time rather than mixing them up I stuck to just the red words on white shadows.  I popped this panel up on foam tape and added it onto a white card base.  As a finishing touch, I added a border of red stitching to the card and tied a little bow in the top corner.
When I make imperial A2 cards my go to is Heffy Doodle envelopes. Here I grabbed my green blending brush and the Aint So Plaid stencil and added a little detail to the envelope flap. As I had a few white word die cuts left over I adhered one of them to the envelope flap too.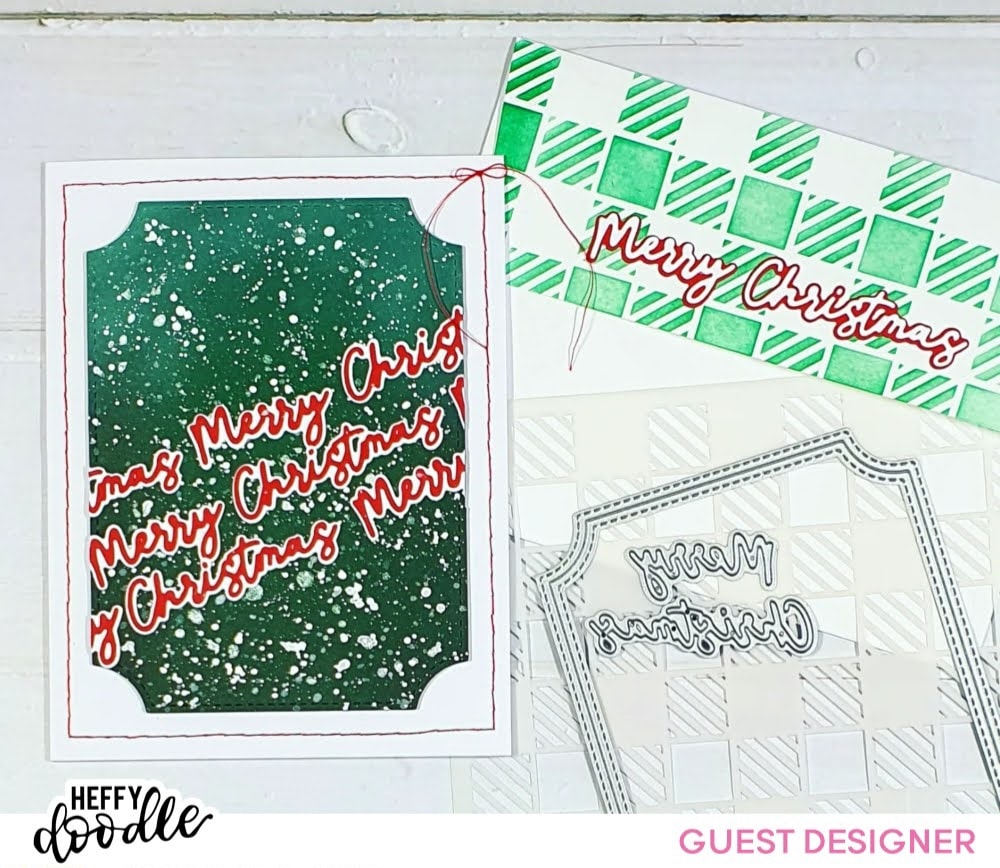 That's all from me today but I'll be back in a couple of weeks with another post.