September 26, 2017
Elephantastic Pop Up Slider Card
Hello Crafty Friends,
I am tickled pink to be doing a guest design post for Heffy Doodle Stamps!  I am an enthusiastic paper crafter living in Texas with my family and two fur babies :).  I have been crafting for many years, and fell in love with card making almost 3 years ago.  If you'd like to learn more about me, I have a blog called Whimsical Card Studio and I'd be thrilled if you decide to drop by and see what that's all about.  For now, I'd like to share what I've created with you.
Today I have a fun interactive card that both slides and wobbles using the Elephant of Surprise stamp set (*buy from SSS|AZ) and the Happy Snappy Crocs (*buy from SSS|AZ) set.
Starting with a piece of 110 lb white cardstock, cut to 4.25″ x 5.5″, I stamped a box stamp from So Suzy Stamps, 2 balloons, and a bow from So Suzy Stamps as my base.  (Note:  Affiliate links used at no cost to you for items marked with an *)
On a separate piece of cardstock I stamped the elephant, the flag, a balloon and the word "boo" on the flag to create a composite image from the Elephant of Surprise set.  After coloring it with Copic markers, I used my Brother Scan n Cut to cut it out and set it aside.  Here's a close up view of this part.  Isn't this too cute!!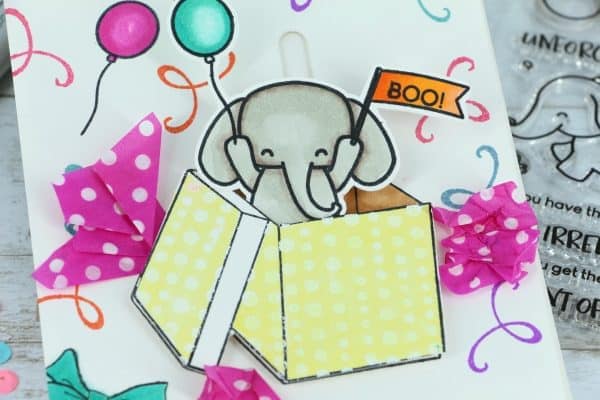 On a separate piece of cardstock I stamped the box stamp and cut it out the same way as above.  I used a background stamp to add a dotted pattern using Versamark and white embossing powder.  I then colored on most of the box with a yellow Copic marker and set it aside.
As shown below, I used a die to cut a slider channel using a Lawn Fawn Die for the elephant composite to go on later.  I colored the "inside" of the box with a medium brown marker (the part that would still be visible when I added the die cut box on top.)
I tried an experiment with the slider – I used a small action wobbler from Hampton Art in the channel since it has a wide base and top and it seemed to work fine although it doesn't slide quite as easily.  Next I added two layers of foam tape on the card front to leave space for the slider to move once adhered to a standard A2 sized card base.  Next I glued the elephant piece to the wobbler (which was already placed into the channel) and last added the box "front" with a double layer of foam tape.  So when the elephant is popped out of the box, you can flick it to make it wobble – SO. MUCH. FUN!
I stamped random "swirls" with a small stamp from my stash in different bright colors to make the background even more festive and added the sentiment "Elephant of Surprise" at the top right hand corner.  I added a few small pieces of tissue paper around the box for some added interest.
Last, I decorated the inside of the card with the small cake stamp from the Elephant of Surprise set and Happy Birthday sentiment from the Happy Snappy Crocs stamp set.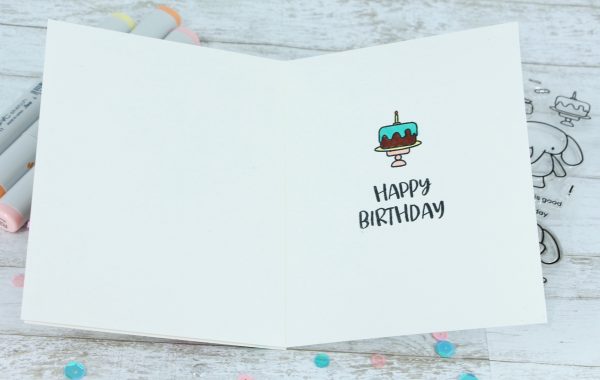 Thanks so much for stopping by today and taking a peek at this card.  I would love to know what you think and look forward to seeing your comments!
Happy crafting,
Teresa