October 10, 2021
Deer To Me Slimline Shaker Card – VIDEO
Hello there, Carrie Rhoades here. Today I am sharing a slimline shaker card I made using the Silly Slimline Slants die.
I love this die, it is very versatile and can be used year round for all occasions. Let's take a look at the card.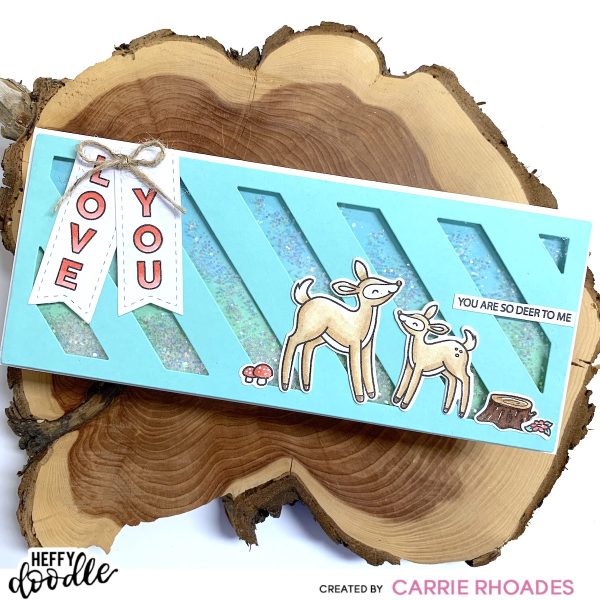 It's a non-traditional backdrop for these deer, but it works. You don't always have to create a scene for your critters.
Let's take a look at this card being made in the video below.
If you can not see the video up on this screen, you can also watch it on the Heffy Doodle YouTube channel.
This card came together pretty easily, but if you are new to shaker cards let me share a few step by step directions for you.
Pick your "window", in this case it is the Silly Slimline Slants die.
Cut a piece of acetate or window sheet to fit the back of the window.
Add foam tape to the back of the window, making sure that the ends of the foam tape touch so there are no openings for the shaker elements to escape.
Treat the window with a little anti-static powder.
Add your shaker elements.
Remove the backing from the foam tape and add your background.
This is how I made this shaker, there other variations to making shaker cards,  but this is the basics.
I chose to add these sweet deer to the front of my card, one of my favorite new sets from the last release.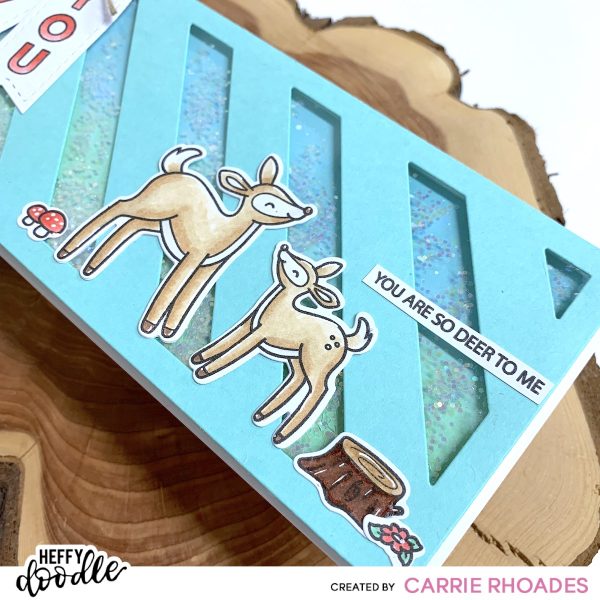 It is such a darling set. I love all the punny sentiments it comes with as well as the supporting images like the stump and mushrooms.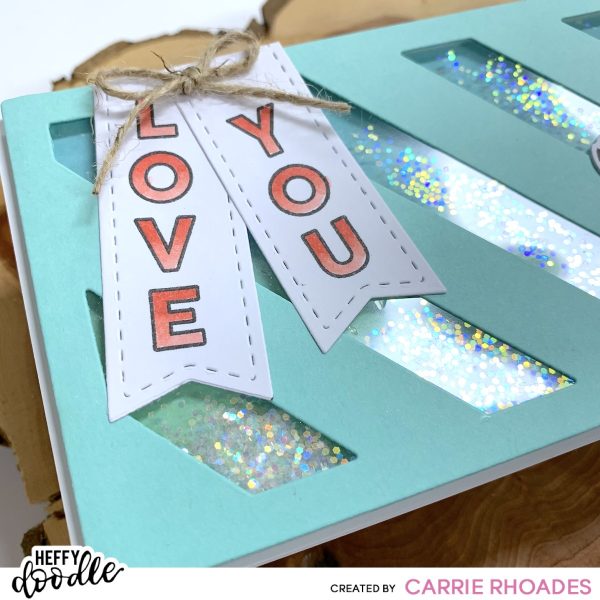 The Very Vertical Greeting stamp set is one of those sets I keep reaching for when making my cards. I think that is because it is different and when I use something a little bit different on my cards it really sparks my imagination. So I have been having fun playing with the sentiments in the vertical form and adding custom coloring to them. I gave these letters a bit of an ombre look.
So, what do you think of shaker cards? I hope you love to make them, as I do, or that you will now give one a try if you have yet to.
Thank you for stopping by and letting me share my creation with you. I have listed and linked all the supplies for you below.
Happy Stamping
Carrie Rhoades
See more of my creations here.