April 16, 2022
Day 4 of SNEAK PEEKS is here, Yippee!

Hello everyone, today we have the last of our lovely new release line-up to share with you today!
Welcome to DAY 4 of Sneak Peeks!!
If you missed the previous Sneak Peeks – check them out here. Sneak Peek Day 1, Sneak Peek Day 2, and Sneak Peek day 3.
Don't forget that pre-orders will open on April 20th, and as a special treat, every pre-order will receive a FREE exclusive 'Mane Squeeze' stamp set. All you have to do is add at least one item from this newest April release. The great news is that you can also get a free coordinating die set when your pre-order is over £45 (before shipping).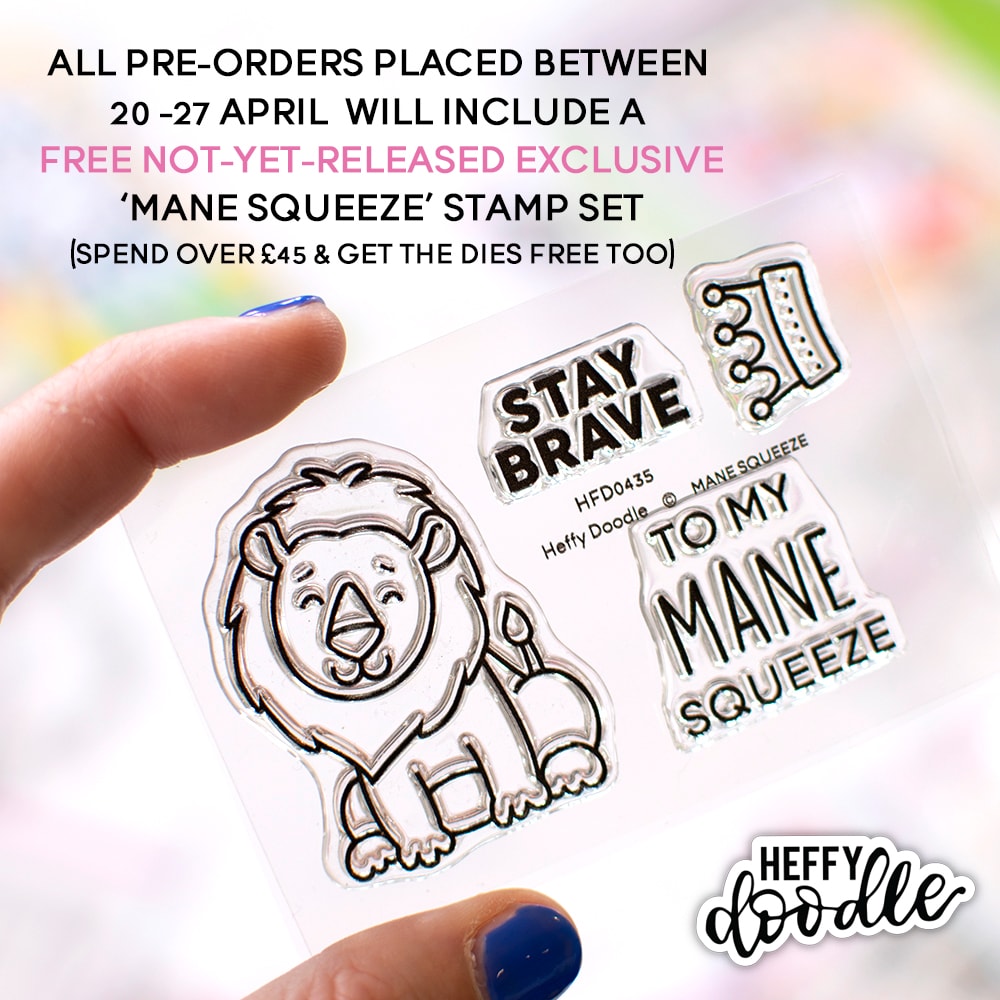 So… are you ready for the last day!? Let's do it!
First off, we have the extremely versatile Stitched Birthday Trio (A2) Frame Dies. You are definitely going to want to keep this set within easy reach! Use the frame dies alone, the word dies alone, or use them all together! Create shaker cards with three different shaker frames! You can also trim away the inside strips to make one large A2 stitched frame – so versatile!!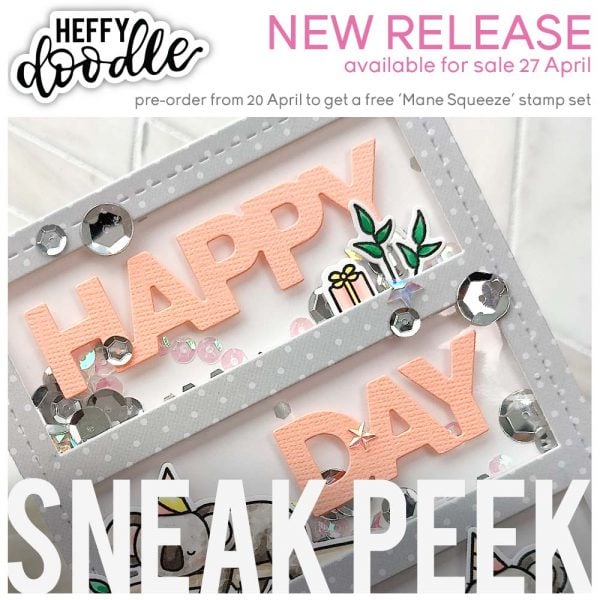 Are you ready for some more cute critter stamp sets? Well, we have just the cutest koalas you ever did see! Look at this adorable Koality Hugs stamp set and dies! The little sweet and floofy friends are the perfect addition to the Heffy catalog! Add the baby on top of a big koala for an adorable peekaboo effect!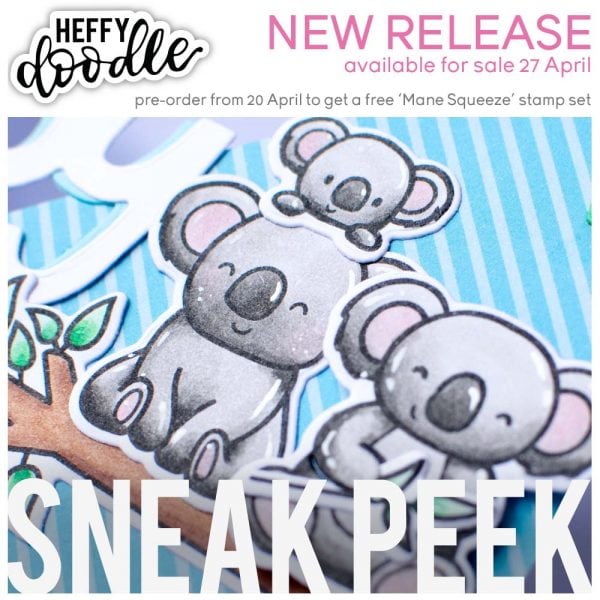 This sweet little koala even has cutouts for his hands to hold small items! It's all in the details!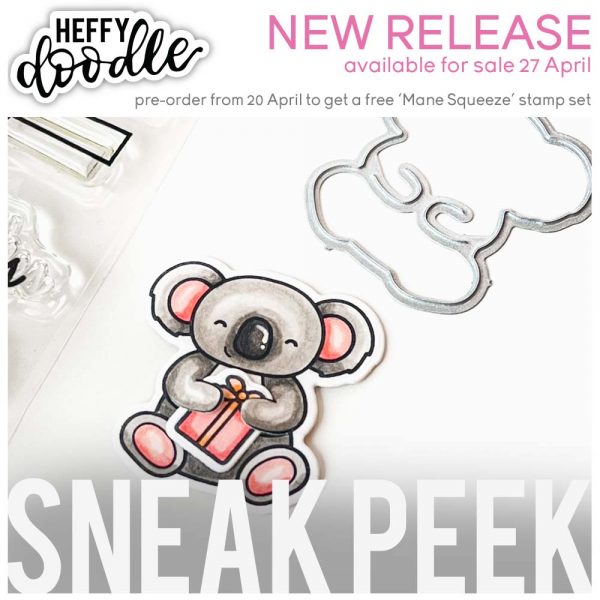 Those cute koalas will pair perfectly with our new Build-a-Bamboo Stencil! This stencil makes it super easy to ink blend the branches and leaves in two different colors! Its so quick and easy to make a background with this cool stencil!
We also have one more Jumbo Sentiment Die for this release! Introducing the Hang in There Jumbo Sentiment Dies. These dies come with a shadow die to place behind your sentiment to help it pop! This is my favourite sentiment because you can cut apart the word 'there' and combine it with other products to make different sayings eg: Ahoy there, hello there… and so much more!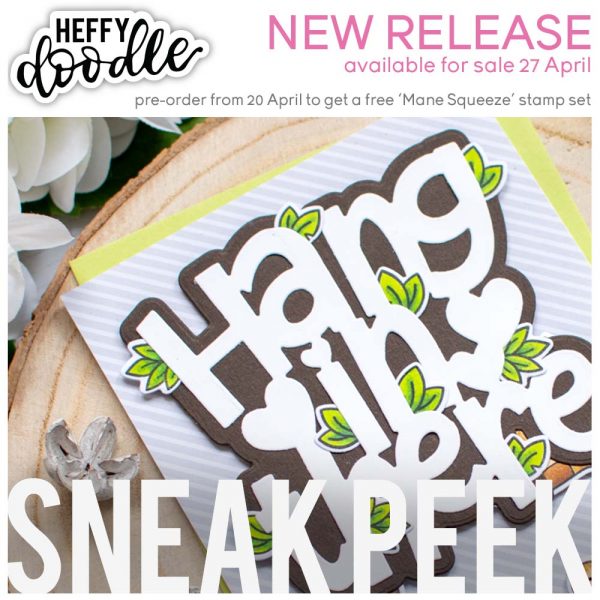 Here's another unique die set! This is the Leafy Laurel Circle Dies! These dies are very versatile and can be used in numerous ways. Use one wreath or more! Add flowers, leaves or holly to customize your wreath! You will be using this die set all year round!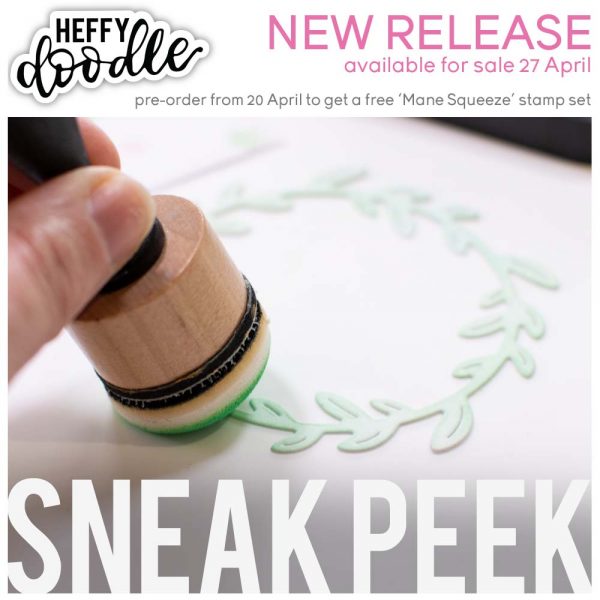 Speaking of leaves, how about this brand new Vertical Vines stencil!? This stencil makes creating a beautiful background a breeze!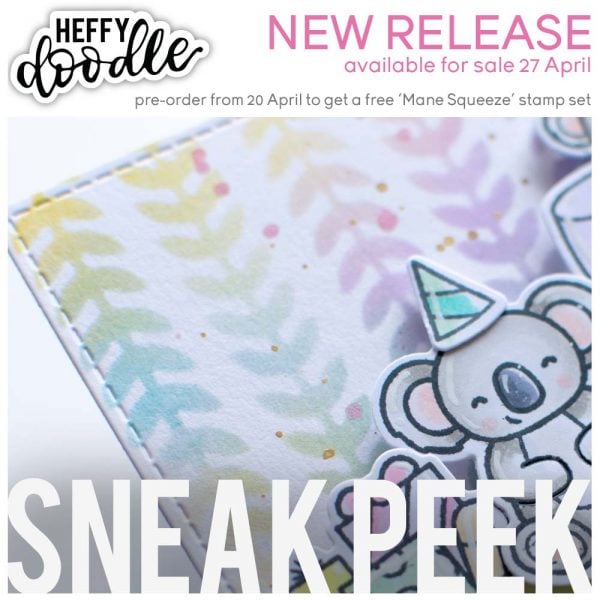 Phew! What an amazing day of sneak peeks! What are you most looking forward to getting? Let us know in the comments!
Don't forget… Day 1 of REVEALS starts TOMORROW!! Come back to see images of the Day 1 products!