June 23, 2019
Coming Fairy Soon: Our Brand New Release! Sneak Peek Day 1!

Hi Heffy Doodlers!
We've got an absotoothly awesome announcement, our brand new release is just around the corner! Over the next five days, we will be giving you guys a sneak peek at the newest release. We just know you are going to love it, our design team love it 'fairy' much indeed! 🙂
After our fifth day of sneaks, we will be heading into three days of full reveals, so if you like what you are seeing, be sure to come back to check out the full products! This time we have over 45 products, plus a card kit! When our new release has been fully revealed, the Heffy Doodle store opens for pre-orders and as always every pre-order will receive a FREE STAMP! Just look at this cute HAY THERE stamp set.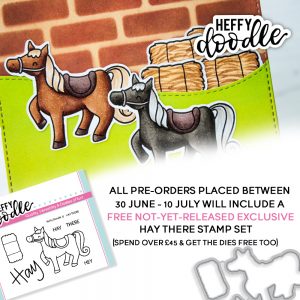 Not only is this HAY THERE stamp super cute, but it coordinates perfectly with one particular set in this release… you will need to come back to find out which one that would be! 🙂
So let's start things off with our first day of peeks! Please feel free to share with your friends, and leave a comment to let us know your faves!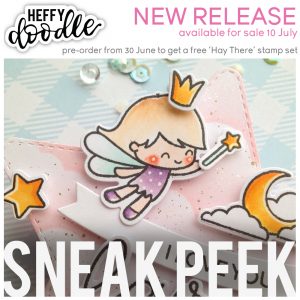 Up first we have adorable fairies in Absotoothly Awesome, this set is sure to bring a smile to any card! It's perfect for creating a note from the Tooth Fairy herself or any magical occasion. These cuties are perfectly sized to pair with tons of accessories in our range. Of course, this set also has matching dies, and there is a super cool die included in this set that will really appeal to those who love to make light up cards!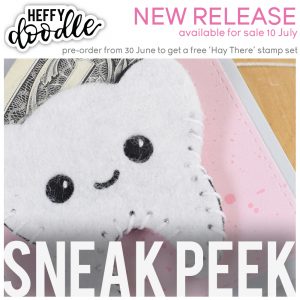 Next, we've got our very first plush die, our Tooth Plush is almost too cute to hide under the pillow! It's easy to assemble and has the perfect spot for a little tooth and a dollar bill. If making plushies are not your thing, don't worry, this die has been designed so you can create a sweet tooth from card stock for your papercrafting projects too!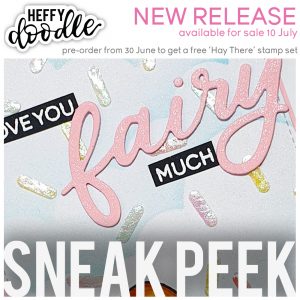 Here we have our first word die, the Fairy Heffy Cuts die! This coordinates with our Absotoothly Awesome stamp set and will be a beautiful addition to your stash! I love the scripty style!
Sprinkle a little magic on your cards with this Magical Heffy Cuts die! It's the perfect size to combine with your sentiment stamps and it's script style gives a little elegance to your projects!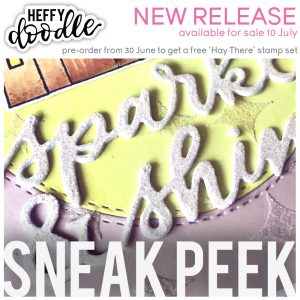 This is our first combo Heffy Cuts set – Sparkle & Shine, because let's face it, everyone loves a little sparkle every now and again, and it coordinates perfectly with this next stencil…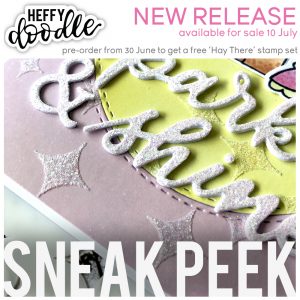 Let me introduce you to the Twinkle Twinkle stencil! Just look at how beautiful this looks on the background of a card using glimmer paste! I think you are going to need this one!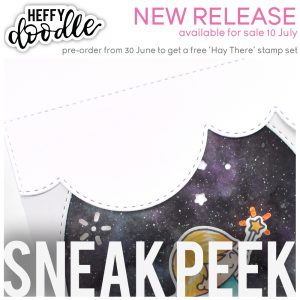 You guys have been asking for some more border dies, so let's take a peek at the Silver Linings Cloud Border Dies. Perfect for whimsical scene building with a polished stitched look on both the inside and outside of the cut line!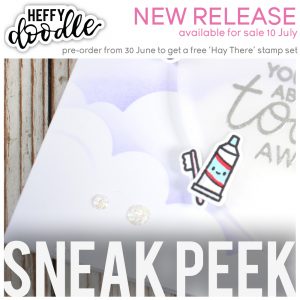 And the last peek for today is the Cloudy Skies Stencil! Similar to our popular Cityscape Stencil, this little guy has been made in a way that you can create perfect layered backgrounds. There's a total of 5 cloudy edges so you can get the perfect sky every time!
Woo! Are you excited!? I know I am! and today is only Day 1. We can't wait to share the whole release!
Check back tomorrow for Day 2! Hint: Bells will be ringing!