January 19, 2022
Color Me Happy: I Love You Card

Hello there! I'm Claudia (@mrsclocards) and today I wanna share with you this card I made using the Pandtastic Painters stamp set and the I Love You Shadow Heffy Cuts dies.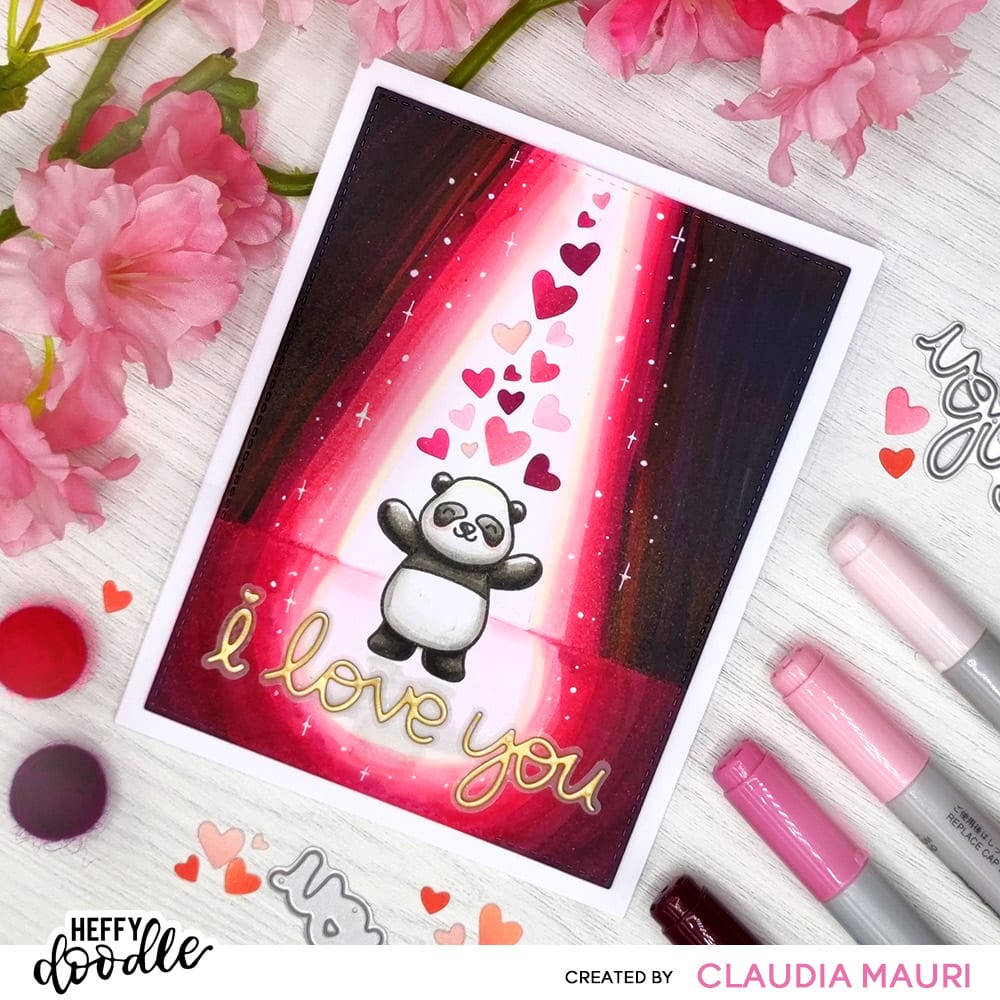 Valentine's Day is around the corner and this year I decided to make a card in advance, instead of the same day like I usually do LOL I was inspired by two of the most talented ladies around: Jennifer and Sara. My card is far from being perfect like theirs but I love the colors and the gold sentiment!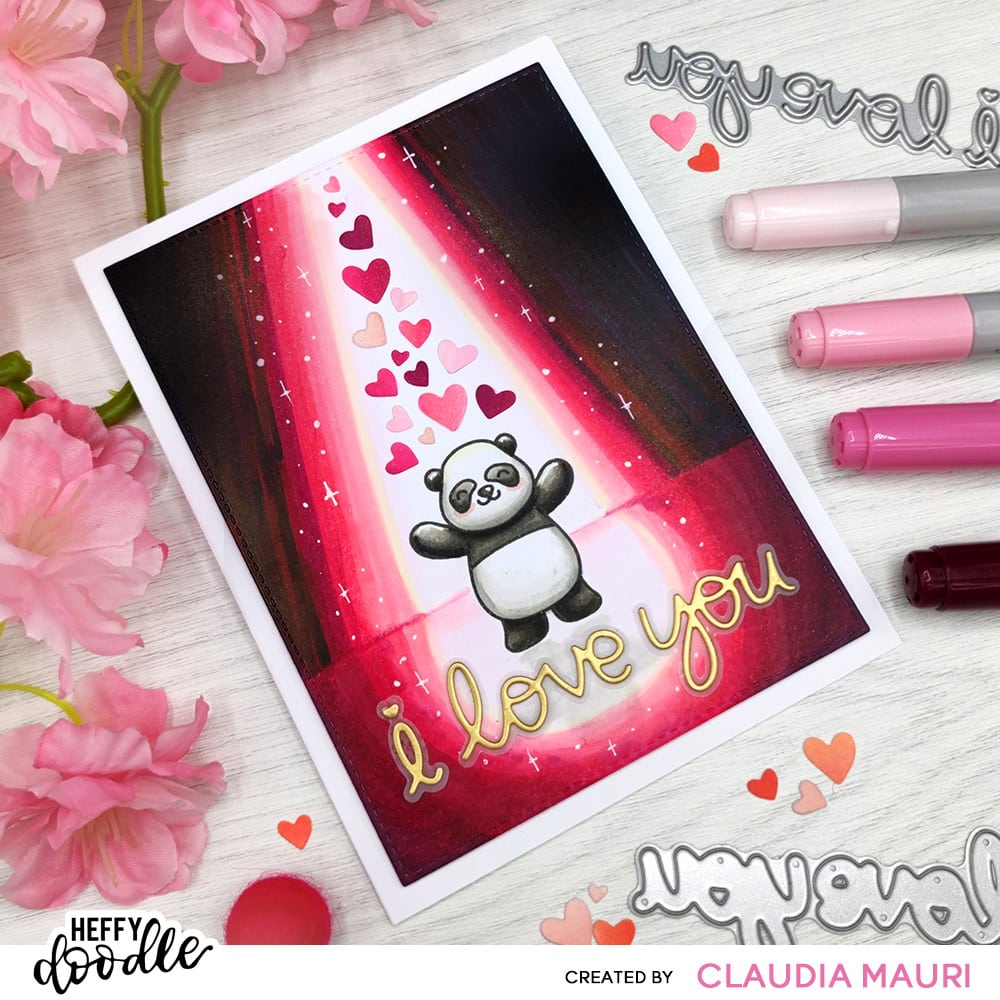 I stamped the panda from  the Pandtastic Painters stamp set on a piece of Heffy Doodle Alcohol Marker Friendly cardstock and I used a piece of paper tape to mask the floor line behind the panda.
I colored everything using Copic marker in the following colors:
– PANDA: W01, W03, W05, W07, W09, 100
– BACKGROUND: Y000, RV000. RV21, RV23, RV25, RV69, 100
– FLOOR: Y000, RV21, RV23, RV25, R39, RV69
When I was done coloring, I used the biggest Imperial Stitched Rectangles die to cut out a perfect panel and used foam tape to attach it to a white card base.
For the sentiment I die cut the I Love You Shadow Heffy Cuts dies on both gold cardstock and vellum (for the shadow), I put them together and I glued them to the card.
At this point, I realized that the upper part of the card was empty… I had the idea of filling it with hearts, but I was afraid of trying to stamp/hand draw and color them since I wasn't sure I could take the panel and the card base apart without damaging them. I searched through my stash and I found a die with tiny little hearts that were perfect for the occasion: I blended the pink Copic markers on a little piece of marker friendly carstock and used the die a few times to get many hearts that I glued to the card. Yay!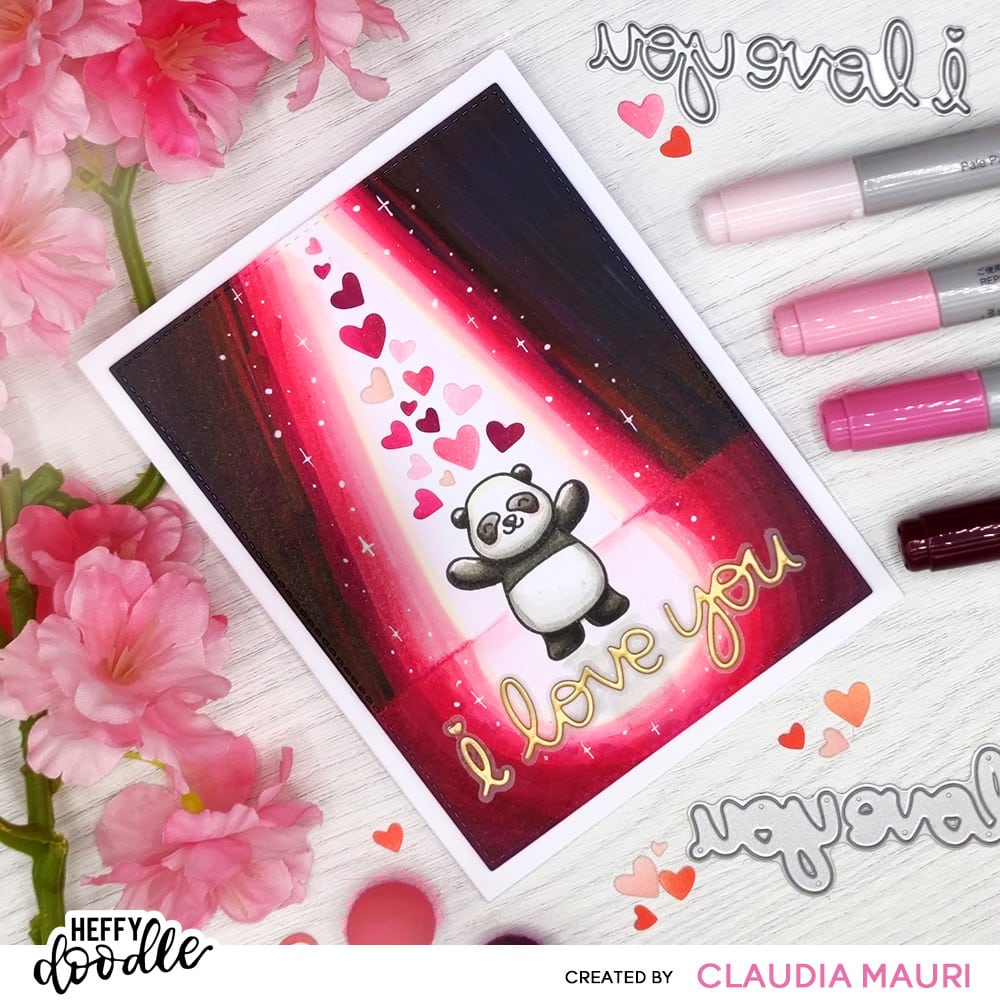 Thank you for reading and see you soon on the Heffy Doodle blog!
Happy crafting.
Clo