November 16, 2020
Christmas Scene Colouring

Hello, Tallie here. It's rapidly approaching that time of year when I start to get a bit anxious over having enough Christmas cards to send out come December. Every year I say I will start early and make at least one a month all year round, but I never manage to achieve that aim! This is my fifth card of the year and the next in my Colouring Scenes series.
I mixed quite a few different sets in order to create this Christmas scene: Wanna Build a Snowman, Holiday Sentiment Duos, Teacher's Pet and Santa's Village. I used my Copic markers, some coloured pencils, a white gel pen (a staple this time of year!) and lots of masking paper to bring the scene alive!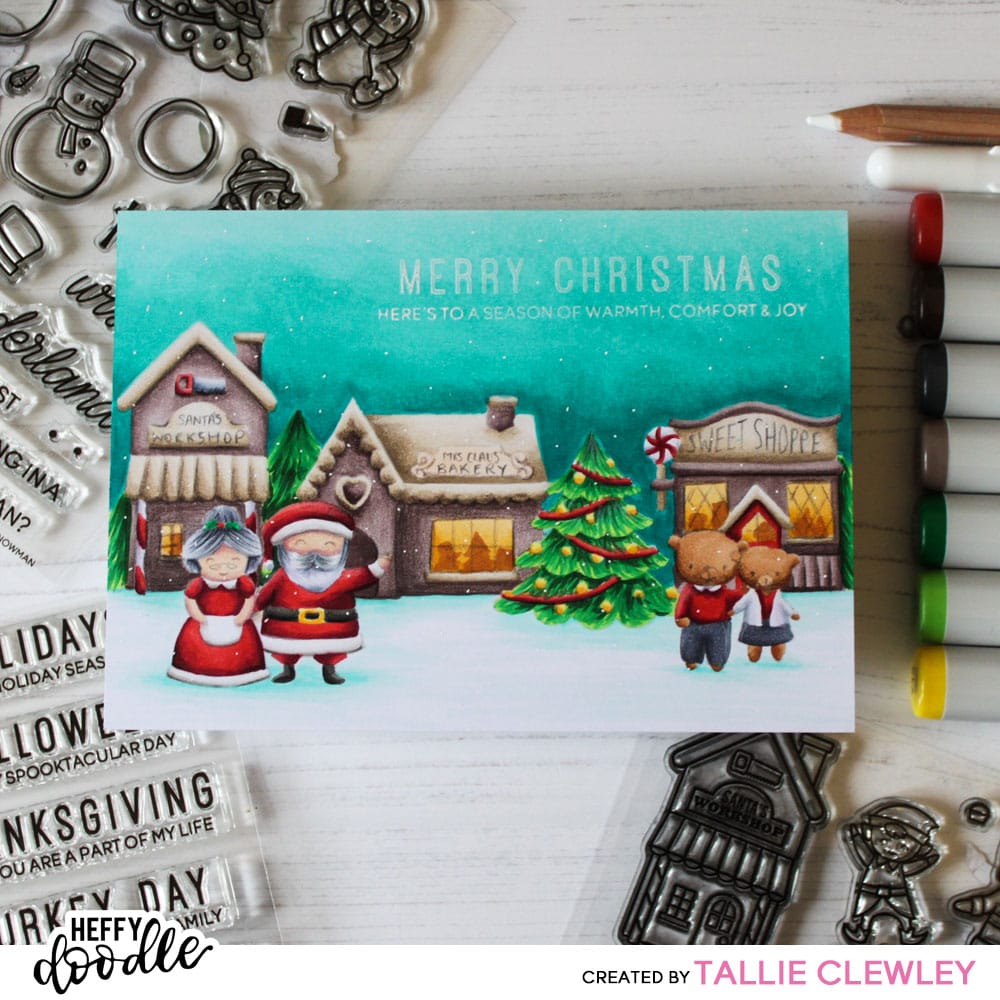 As always, I started out by planning out my scene before stamping. I used the rule of thirds to place the background images (the majority of the scene is situated in the lower third) with the sentiment in the top right hand corner. I then stamped the scene out in some Lawn Fawn Jellyfish Ink (great for no-line Copic colouring!), starting with the foreground elements first and working towards the back. I use these sets so often at Christmas time that I already have masks cut out of masking paper, but Heffy tape works well.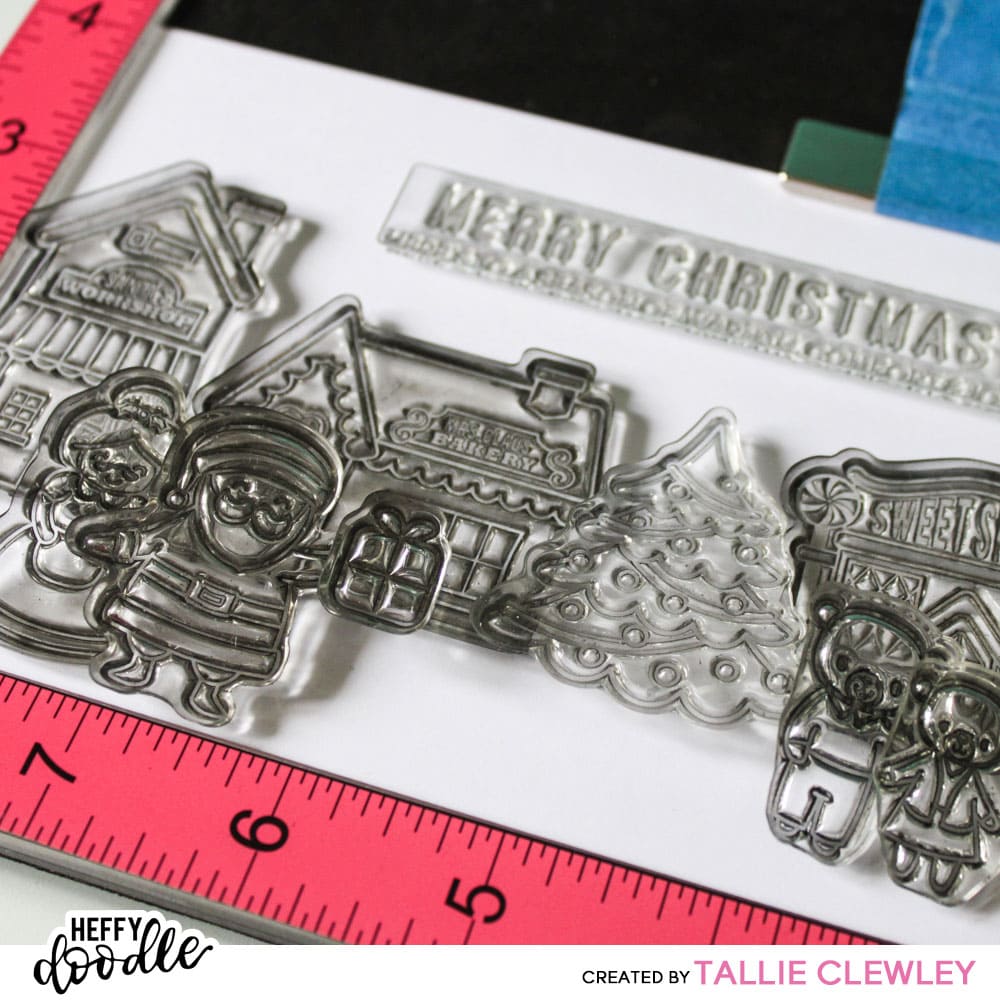 I always start with the background as it helps to prevent bleeding when colouring different elements. I chose some bright aqua blue-greens and used a gradient with the darker markers used behind the houses. Don't worry if you can't get a smooth blend – just add more snow later to hide it!
Next came the houses, using a mixture of warmer E70 and cooler E40 markers to distinguish between wall and roof. I use at least four markers to get the depth of colour, though a white and black pencil do wonders to boost the contrast in the later stages!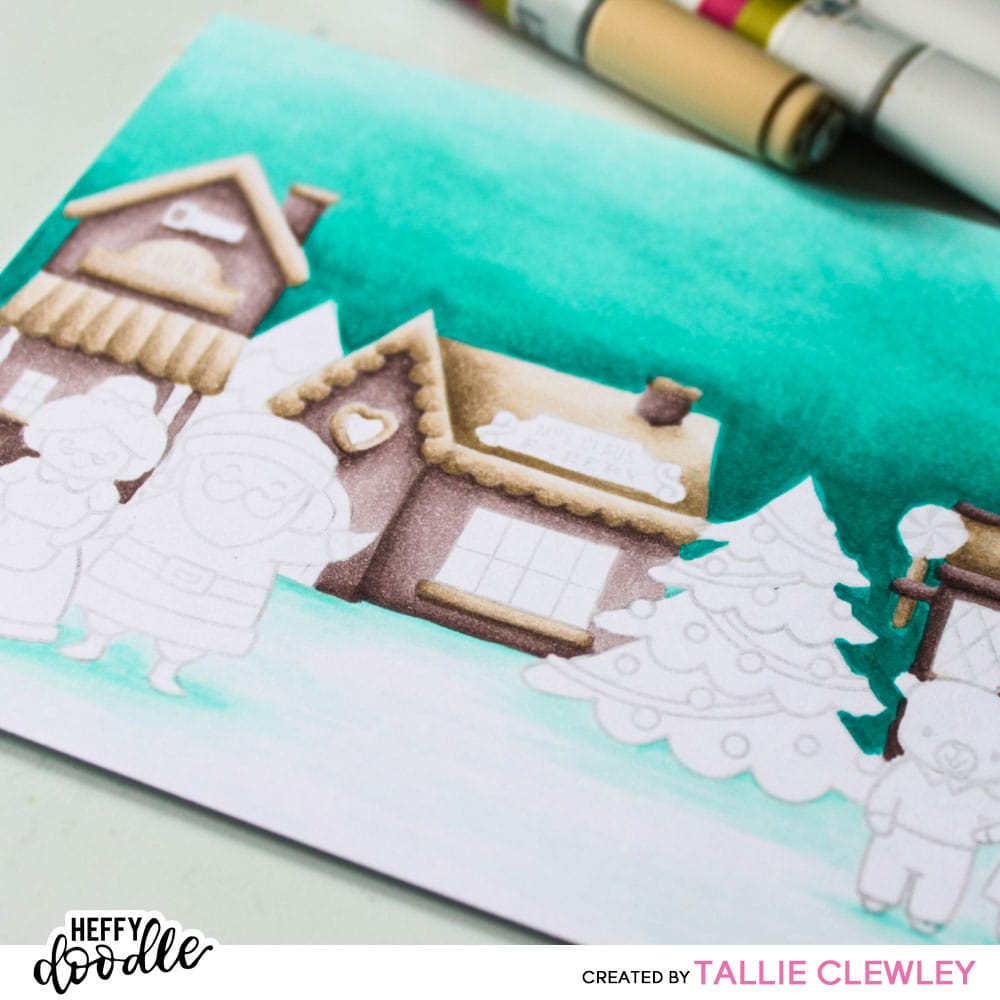 I continued on with the scene, gradually filling my desk with markers. I left the small details uncoloured, so I could go back in and add them with coloured pencil with the finer tips.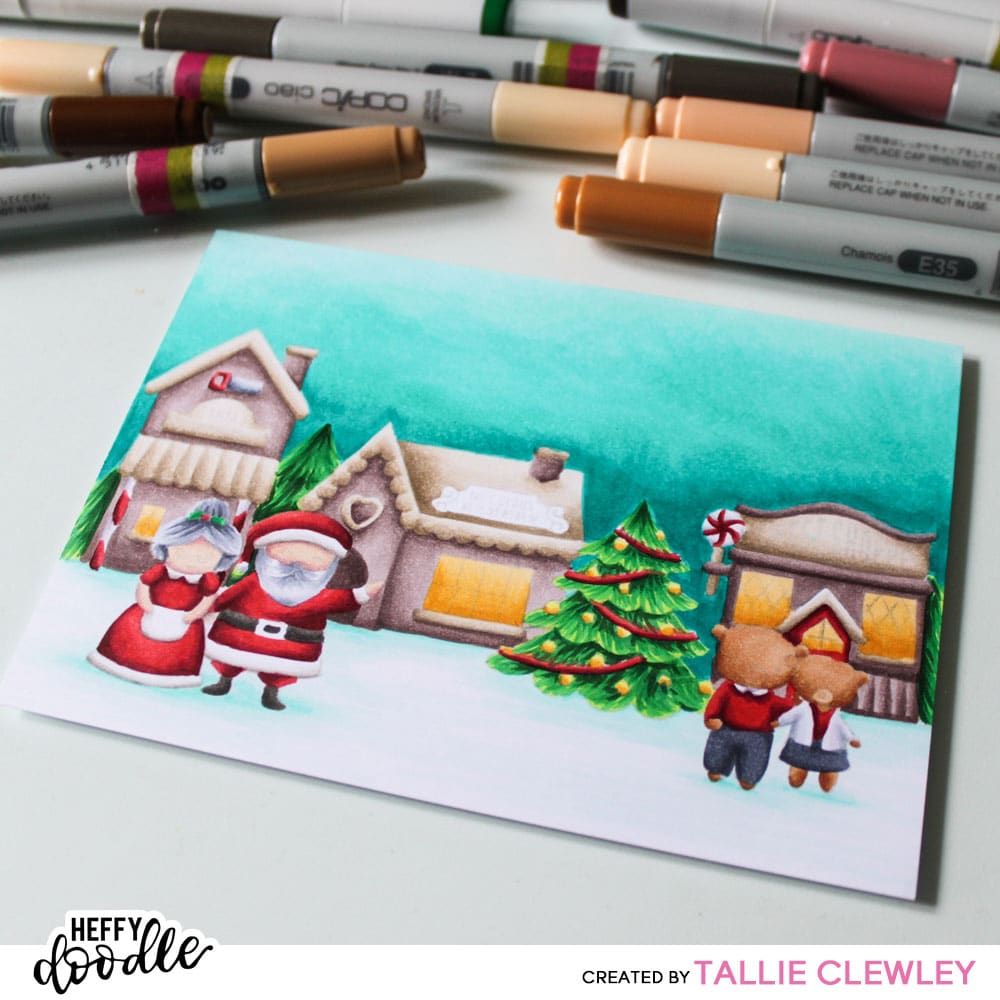 I stamped out the sentiment in the top-right corner in some Lawn Fawn Yeti pigment ink as I wanted more of a subtle feel to the background.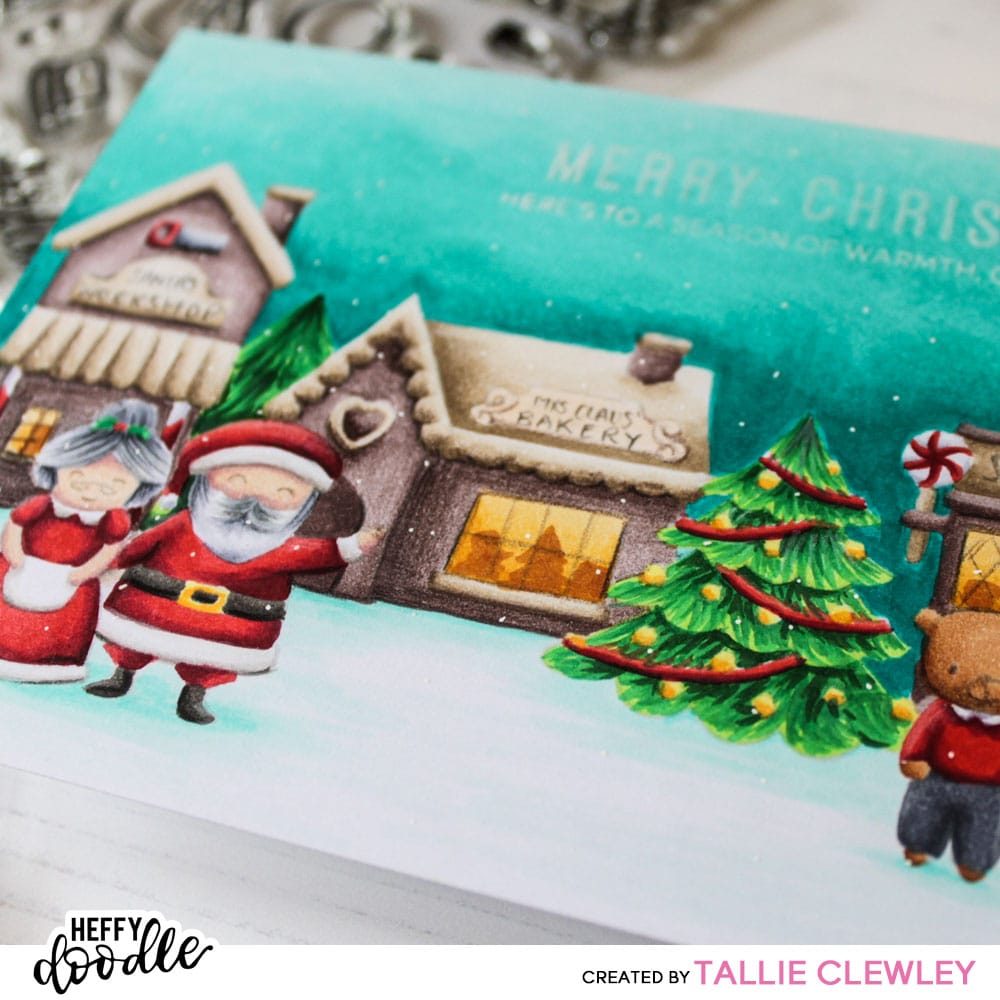 Of course, some final finishing dots with a white pen for the all-important snow and add that festive feeling to the scene!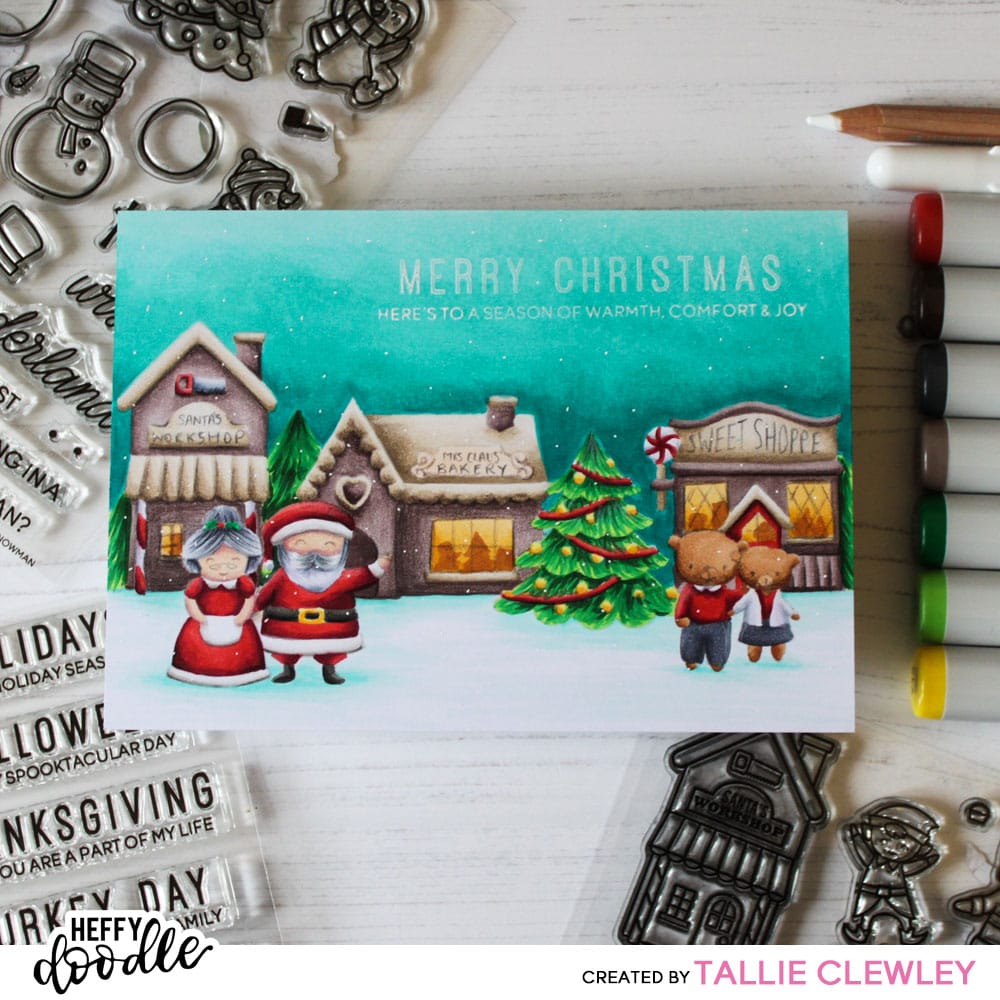 I have a couple more festive cards to share with you before the year is out, so look out in a couple of weeks for another Christmas scene!
Good luck to those of you who are making your own Christmas cards this year. 🙂