June 27, 2017
Calling all Heffy Doodlers!
Only a few more hours to go…
EEK!! 😀 I have been waiting so long to show you the full reveals- only a few more hours before we begin – and I promise you won't be disappointed! Already we have gathered an amazing bunch of Heffy Doodle fans – who have named themselves the Heffy Doodlers! How fun! I am so grateful for each and every one of you – thank you for helping spread the word about Heffy Doodle! With your help, we hope to make the Kickstarter campaign a success so we can bring Heffy Doodle into craft rooms around the globe!
In honour of our admirers, we have made a special badge that you can put onto your blogs and share on your social media! Enjoy! 🙂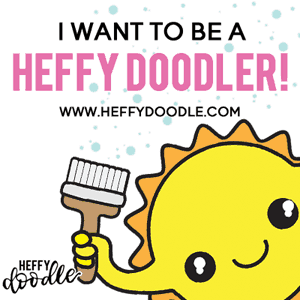 See you tomorrow for the full reveals!
Lesley
x