April 2, 2021
April Color Snapshot with Davina


Hello my inky fingered friends! Davina here, with a new Color Snapshot for the month of a April. With Easter happing so quick at the beginning of the month, I didn't want to make an overly "pastel" color combo, so I tried to think of some of the beautiful things that are occurring at this time of year. My mind wandered toward the gorgeous images of the incredible blooming Japanese Cherry Blossom trees. One day I hope witness them in real life, but for now I will have to look at photos.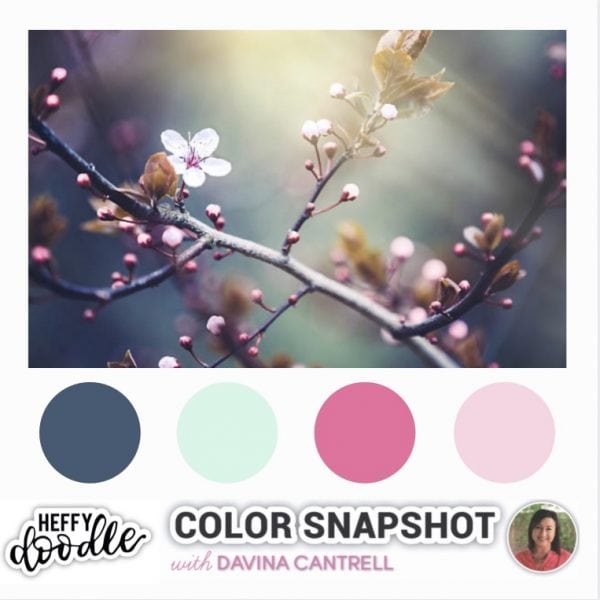 I came across this subtle Cherry Blossom image, and loved the sultry combination of the deeper teal/ocean blue and mint against the soft and bold pink. I kept coming back to this one, so I guess it was meant to be.


Wanting to create a playful card, but still incorporate some of those Cherry blossoms, I decided to go with some cute Heffy Doodle Puppies. I stamped images from Hot Diggity Dog, Hootiful, and the small flower from Honey Bunny stamp sets and colored all of the images with copic markers. After die cutting with coordinating dies, I added small white highlights.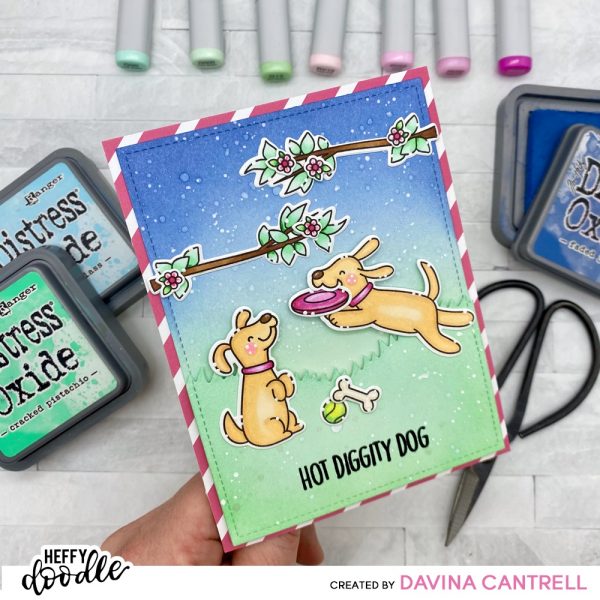 I cut two panels from bristle smooth cardstock and cut one shorter using the Grassy Lass Border Dies. I inkblended each panel to create a blend from the darker ocean blue on top, to a very light icy mint on the bottom. Then I gave each piece a splatter with water, white ink, and glittery perfect pearls. Once dry, I adhered the grassy portion to the bottom using the Heffy Doodle 3 mm Foam Tape, it's really a perfect deep foam that makes the best shaker cards and 3D layers. I glued down my branches to the sky and my pups to the grassy hill making sure to add foam behind the heads to support them evenly with the bottoms. Then I added their toys and the cherry blossoms to the trees. I should have done this first, but I forgot, so I carefully stamped and heat embossed my sentiment to the bottom portion using black embossing powder.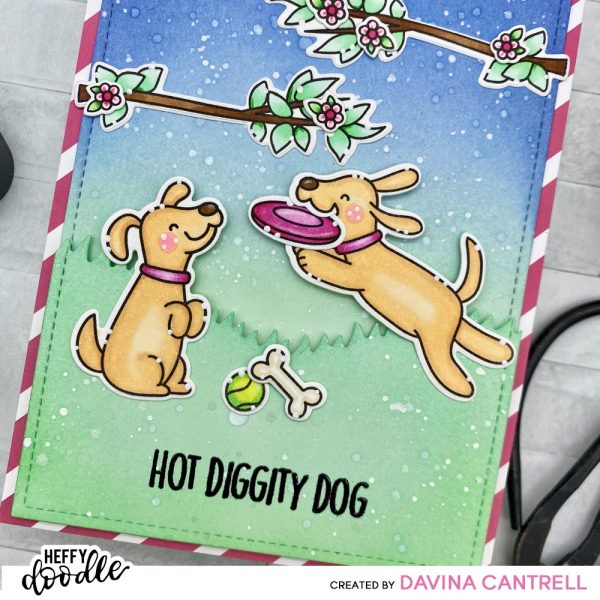 Once this was nice and full, I adhered the image panel onto some pretty striped raspberry patterned paper, then onto my cardbase. I think it's so fun, and sings "spring!" I hope you like it and thank you for stopping by,
Davina