March 4, 2020
Alien Abduction!

Hello all my crafty friends!  I'm super excited to share this interactive card with you!  (To see the card in action, click on my Instagram link below!)
Quick Links:
My Instagram  |  You're Weird Stamp Set  |  You're Weird Coordinating Dies  |  Whatcha' Saying Stamps  |  Whatcha' Saying Dies  |  More Strips of Ease  | Memo Tape |  Interactively Yours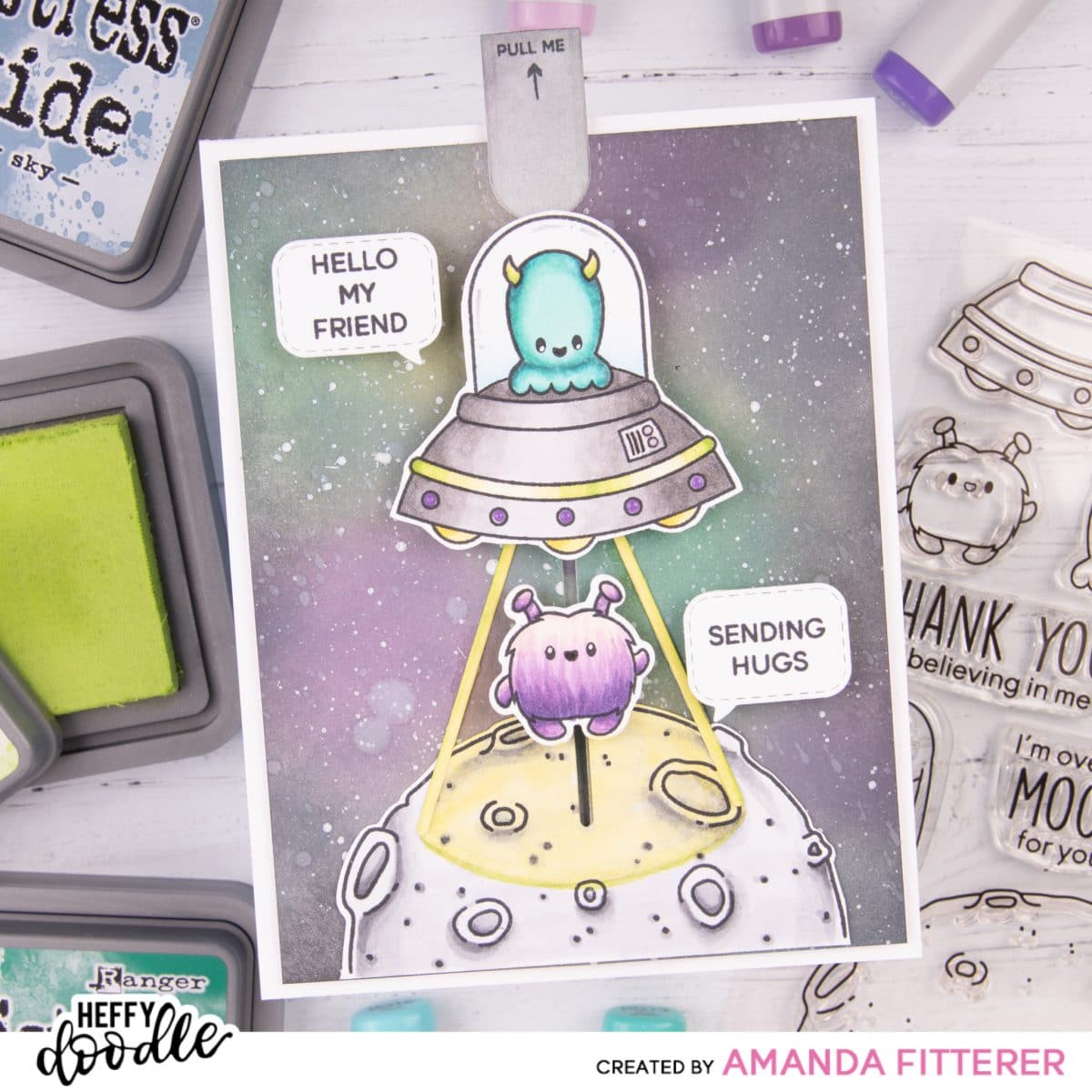 I'm going to make my galaxy background first.  I'm starting with a white piece of Neenah 110# cardstock that I cut down to 4″ x 5.25″.
I'm starting with these distress oxides:  Twisted Citron, Stormy Sky, Dusty Concord, and Lucky Clover.  I'm creating 3 little areas of each color.
Then, I'm going in with Hickory Smoke and Black Soot to darken the entire thing.  I'm focusing the black only on the edges, though.
Next, I'm going in with each color and adding more color on top.  I'm going to spritz the whole card front with water and then fleck white distress ink as well.  I'm using a water brush with a tiny bit of water and tapping it against my pencil to get the flecks all over the card in different shapes and sizes.
I'm ready to stamp my images now while the background dries completely!  I'm using Tuxedo Black Memento ink because it's an alcohol-friendly ink and won't bleed when I start using my Copics.  I'm stamping these guys from the You're Weird Stamp Set .  I'm using Memo Tape to mask off part of the image.
Now, it's time to color and cut my images!
Moon: N0-N5 and 110 (for dots)  |  Spaceship: T0-T5  |  Alien: BG78, BG09, BG11, BG13, BG15, G02, G00  |  Horns and Light Ring: YG0000, YG21, YG23, YG25  |  Lights: Y02, Y06, Y18  |  Spaceship Bubble: 0, N3, B00, B02  |  Purple Alien: V17, V15, V12, V0000
Let's get the interactive part of the card going now!  I'm using some pieces from the Lawn Fawn Let's Toast Pull Tab.  I'm cutting down my pull tab to fit my purple alien.  The cut-out die from Lawn Fawn isn't big enough for me, so I grab my More Strips of Ease dies and use the longest one (3rd photo below).  This will allow my alien to go all the way up into the spaceship!  I want to make sure that white doesn't show behind or on my pull tab, so I'm grabbing a few distress inks and blending them a little bit. I'm using the Interactively Yours stamp set to stamp "Pull Me" and an arrow.  I am going to use a small piece of foam tape to adhere my alien.  I use double sided tape to adhere my pull tab pieces to the back of my card front.  To make sure there's enough room for the pull tab to move freely, I'm using double sided 3D foam tape to adhere my card front to an A2 card.
I am using glue to adhere my moon to the card front.  I am using 2 layers of 3D foam squares to adhere my spaceship.  I want it to be raised enough that the purple alien can get into it!  To create a "beam" from the spaceship, I am die-cutting out 2 cutouts from the More Strips of Ease (the same one I used in the interactive portion of my card).  I am coloring them with YG21 and YG23.  I glue them onto my card front as well and then am using YG23, YG21, and YG01 to create the rest of the "beam".  To finish the card, I'm going to add a few word bubbles from Whatcha' Saying Stamps and Whatcha' Saying Dies.
Here's another look at the finished card: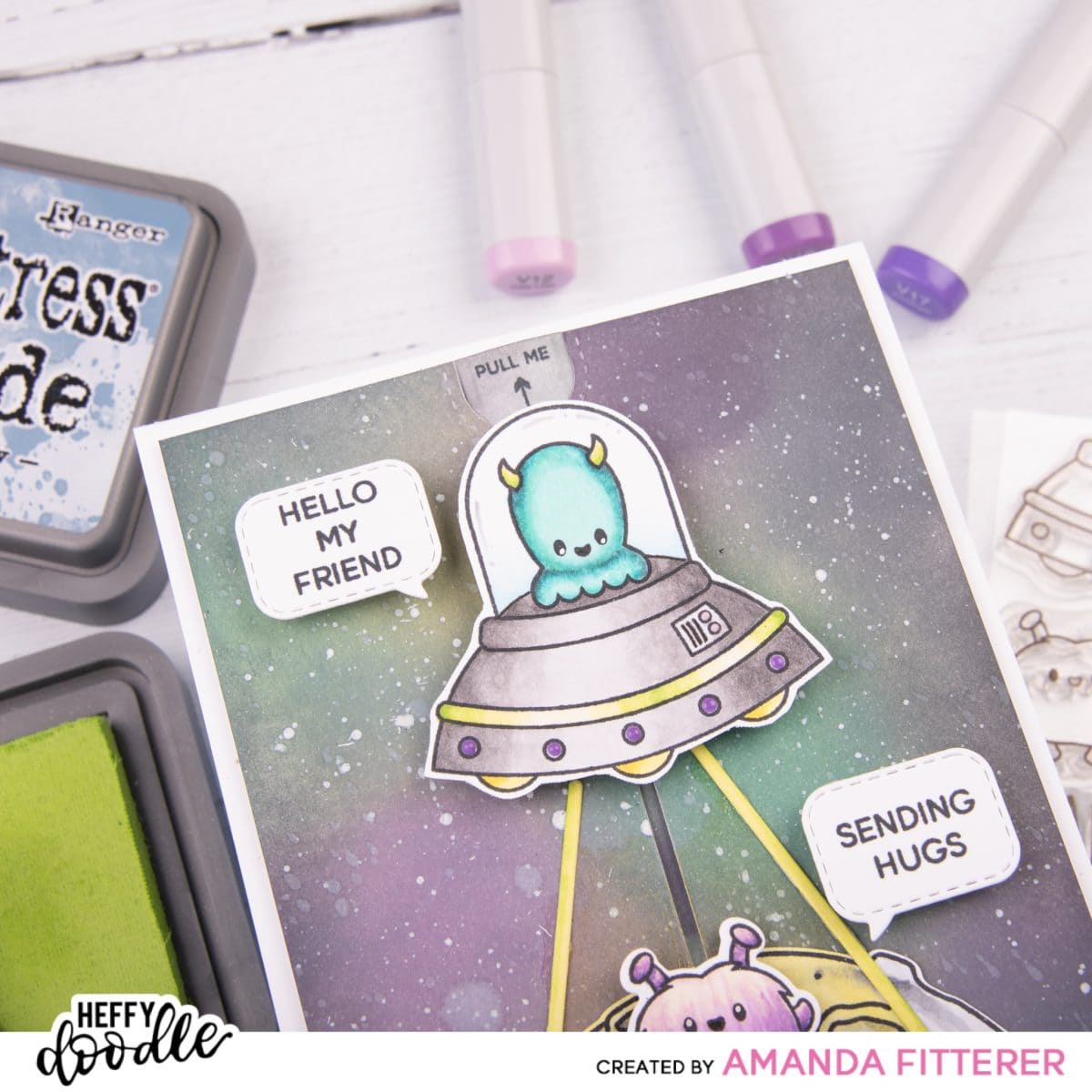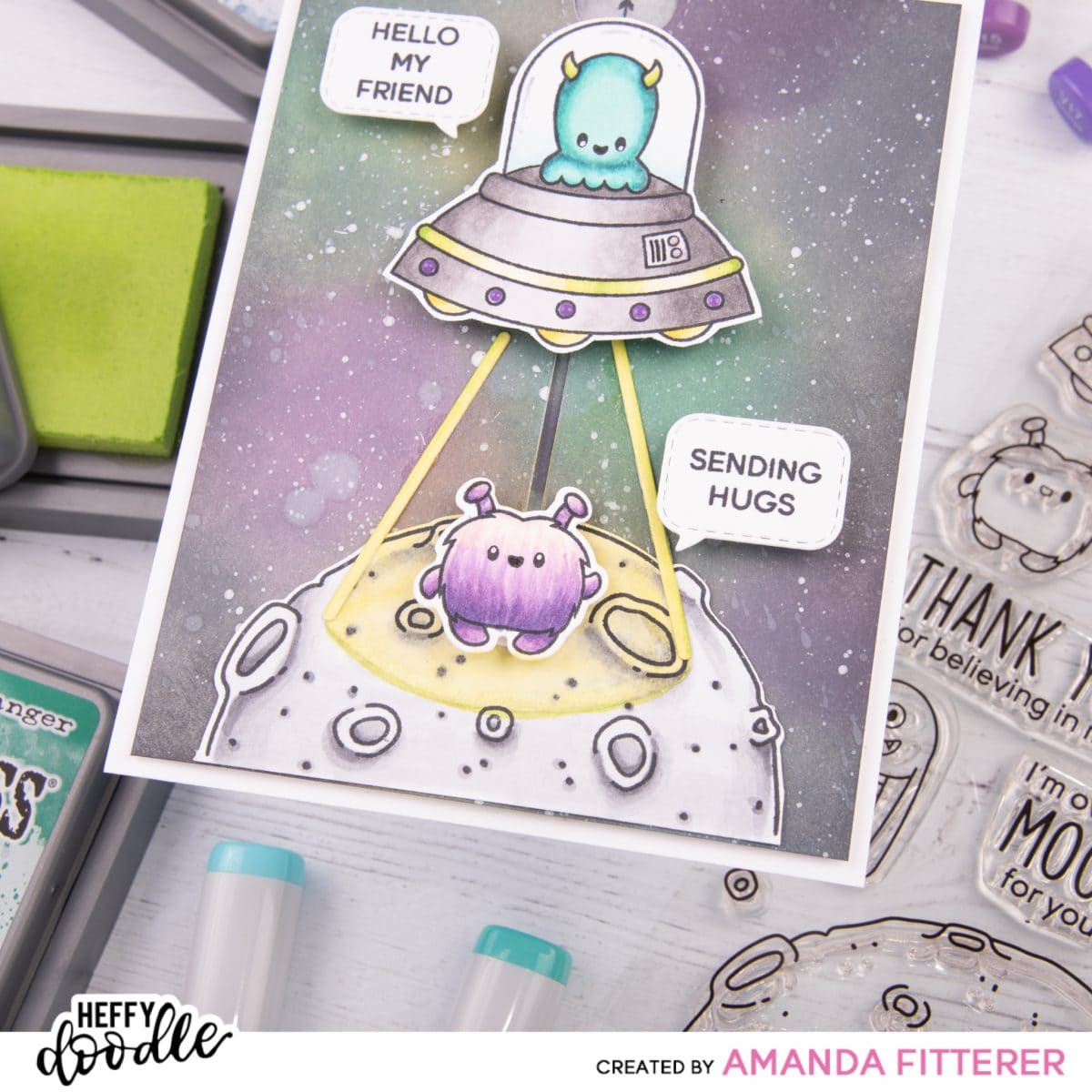 Thanks so much for stopping by!  I hope you love this card!  I'll be back in 2 weeks with another fun Cardmaking 101 post!  Stay tuned!