May 15, 2023
35 Years Young
Hello Heffy Doodlers! Tallie here bring you some pastel inspiration today.
It's always better to personalise a card to your recipient – it just gives it that extra personal little touch! This bright and pastel birthday card features the Happy Birthday Jumbo Sentiment, Moxie Numbers and Punctuation dies and Carnival Star Backdrop die. Personalised in terms of years for the recipient, of course!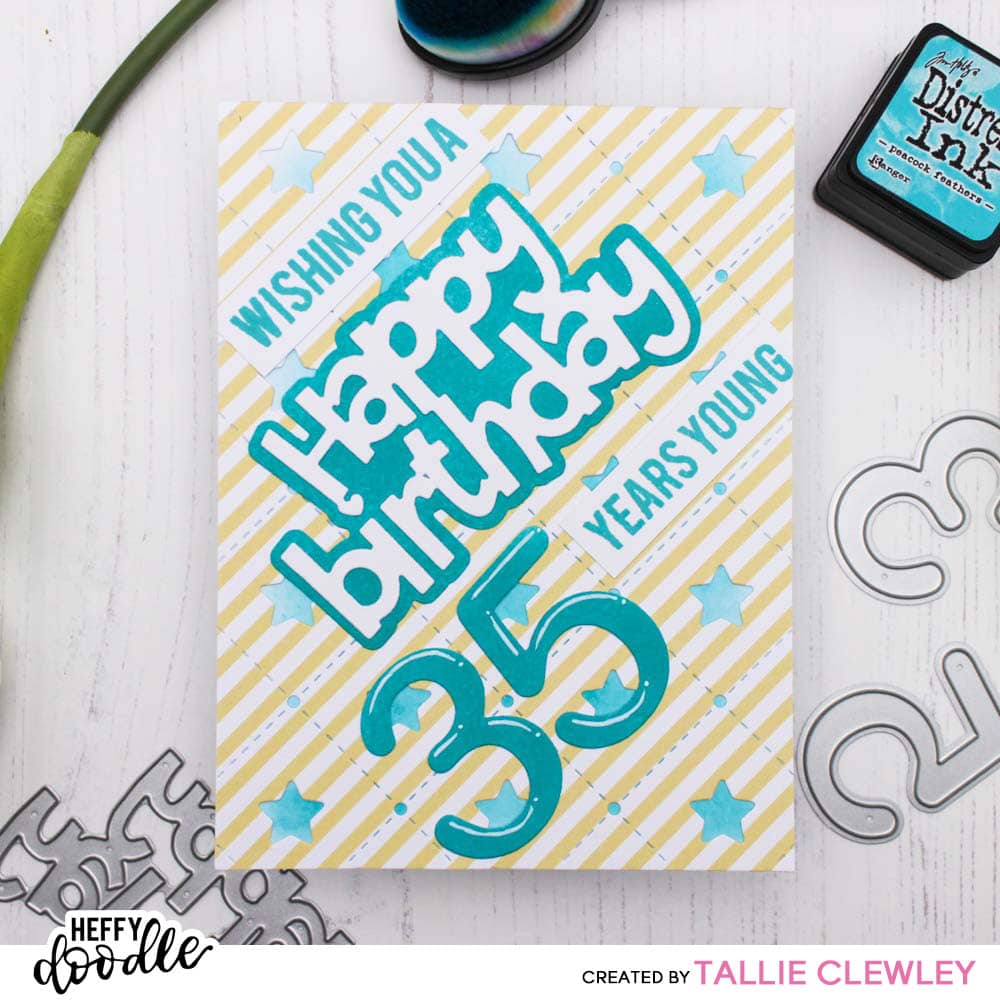 This is one of my rare A2 sized cards, as I usually stick to the UK metric A6 size. I started out by die-cutting a panel of the yellow striped 6×6 Spring Breeze Patterned Paper to use as my backdrop. I then ink blended on some Peacock Feathers Distress Ink to give some contrast to the stripes.
To create the sentiment elements, I die cut the Happy Birthday Jumbo Sentiment and the Moxie Numbers dies from a piece of cardstock I blended in Peacock Feathers.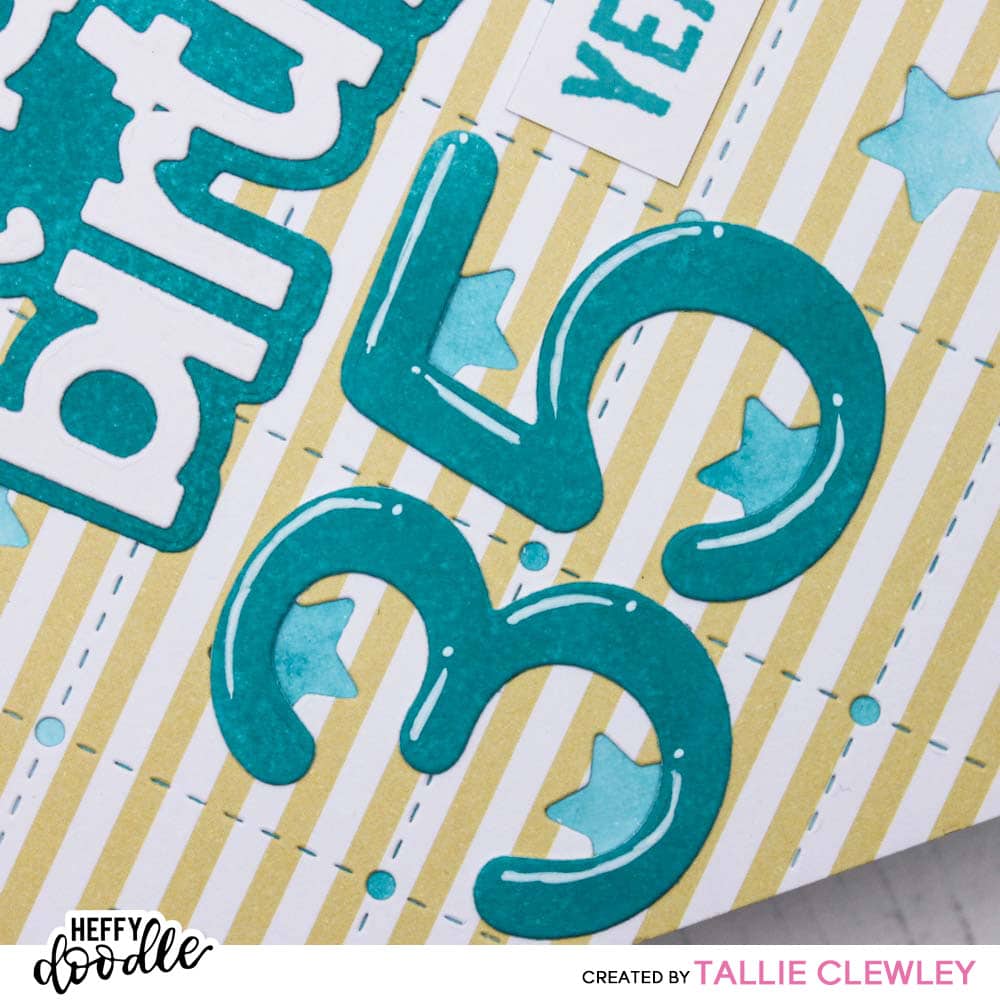 I then stamped out the 'wishing you a' and 'years young' sentiments from the Essential Phrases Sentiment Stamp in some more Peacock Feathers.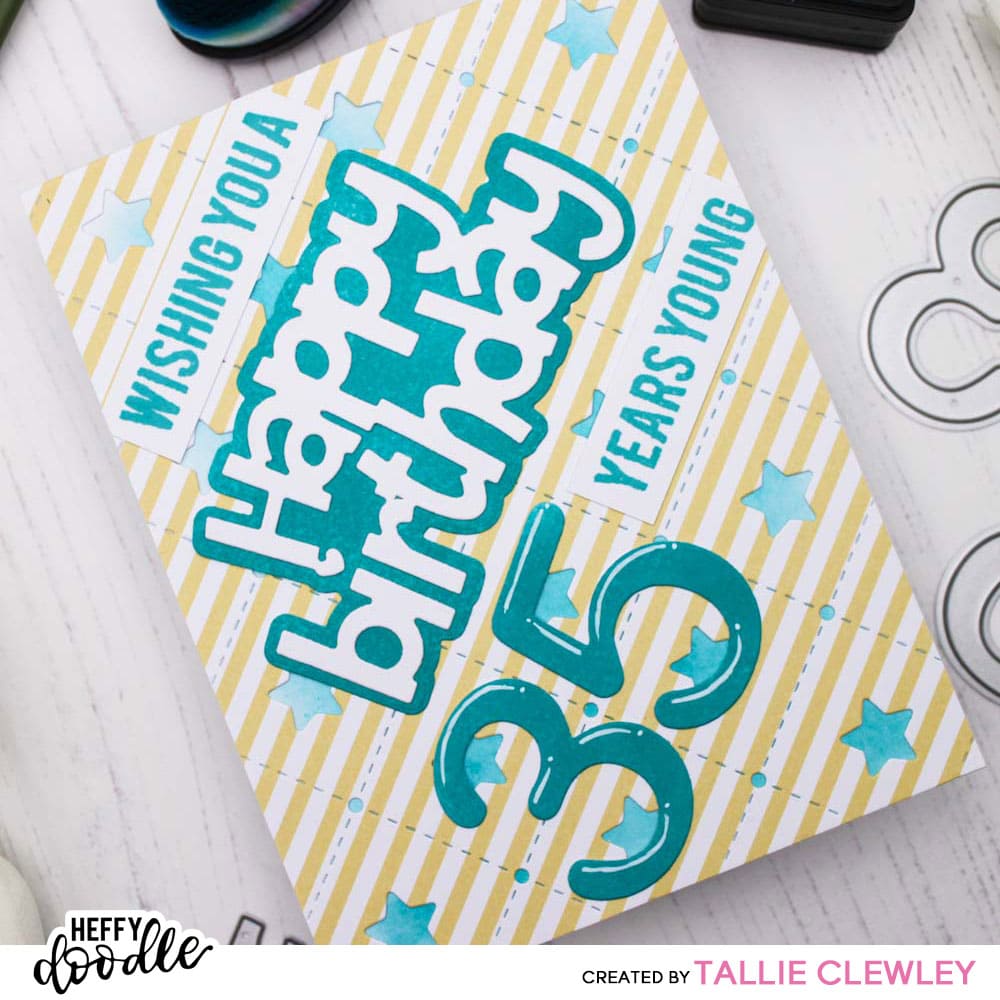 Putting it together creates a great personalised card!
Thanks for reading! 🙂
Tallie
Supplies
Please see below for information on the supplies used in this post.
Heffy Doodle Happy Birthday Jumbo Sentiment dies (Heffy Doodle)
Heffy Doodle Moxie Numbers and Punctuation Dies (Heffy Doodle)
Heffy Doodle Carnival Star Backdrop Dies (Heffy Doodle)
Heffy Doodle Essential Phrases Sentiment Stamps (Heffy Doodle)
Heffy Doodle Alcohol Marker Friendly Cardstock A5 (Heffy Doodle, Simon Says Stamp)
Heffy Doodle Patterned 6×6 Paper Pad Spring Breeze (Heffy Doodle)
Peacock Feathers Distress Ink
Heffy Doodle Glubert Craft Glue (Heffy Doodle)
Heffy Doodle Mini Die Cutting Machine (Heffy Doodle)