November 24, 2019
(Video) Using Masking to Create a One-Layer Scene Card with Jenn Bena
Hello crafty friends! It is Jenn Bena here and I am so excited to be sharing my first video for Heffy Doodle as a design team member! You can watch how I created this festive one-layer card in the video below or over on our YouTube channel!
Today, I am sharing how to mask images to create a fun scene for a clean and simple holiday card using the Heffy Doodle stamp called Santa's Village.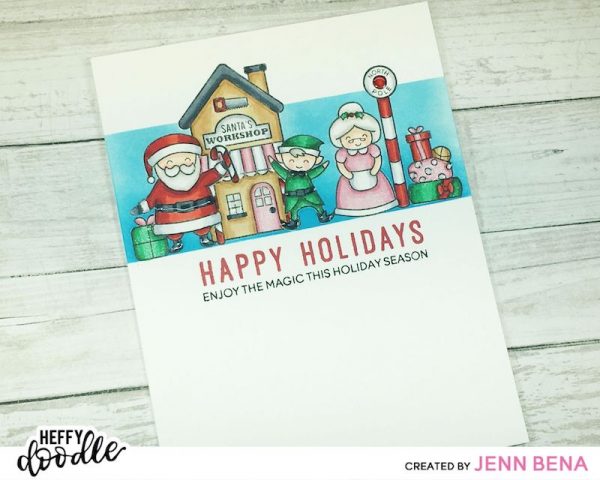 I started by adhering Heffy Doodle memo tape about 2/3rds down the card panel to create a straight line to help me line up all of my images. Then I stamped all of my images on some masking paper and cut them out on the black line using some fine detail scissors.
One of the things I love most about using masks when creating a scene card is that you can use them as a guide. So, without removing the backing, I laid out all my stamped masks on my card panel to ensure all of the images would fit. Having the masks laid out also helped me see which images I needed to stamp first so they would be in the foreground. I placed those stamps over the masks and picked them up with my stamp positioning tool. Then I removed the masks, stamped my images and adhered the masks overtop – this time removing the backing! I used my masks as a guide again and stamped my second layer of images. I repeated this for a third time until all the images I wanted to use were stamped. Don't forget to adhere the masks each time you add more images!
Leaving all the masks on my images, I grabbed my memo tape again to add a straight line about one inch from the top of the card. I left a bit of the workshop roof and the north pole sign outside of the line for added interest. Then I used my distress oxide inks in tumbled glass and mermaid lagoon to blend a soft background for my little scene between the area the two memo tape masks created.
Once I was done blending, I removed all the masks and coloured my images using copic markers. Next, I stamped the sentiment using the Heffy Doodle Holiday Sentiments Duos stamp set. Masking the sentiment, I stamped the first part of the sentiment in red ink and the second in black. Then I added some fun details to my images using a glitter pen and nuvo glaze to finish off the card!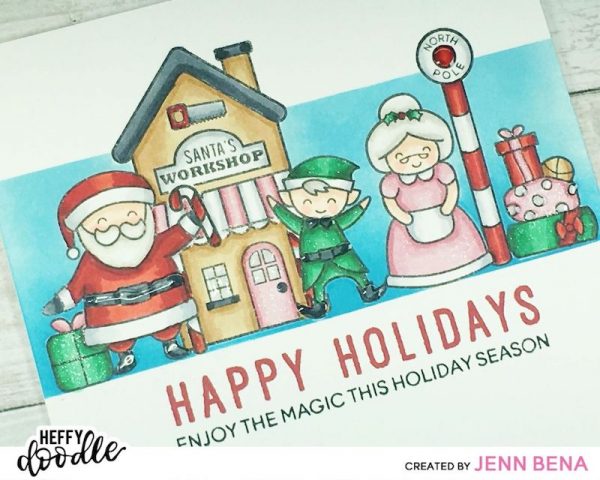 Thank you so much for stopping by today! I hope you learned some new tips on how to use masking to create a clean and simple one-layer card! Don't forget to subscribe to the Heffy Doodle YouTube channel so you don't miss all the wonderful inspiration from the video design team!
Jenn
You Can Find Me On:
YouTube: https://www.youtube.com/user/ScrapbenaCreations
Instagram: https://www.instagram.com/scrapbena/
Facebook: https://www.facebook.com/scrapbena/
Pinterest: https://www.pinterest.ca/Scrapbena/
*Affiliate links below at no cost to you.
Heffy Doodle Memo Tape
https://heffydoodle.com/shop/heffy-memo-tape-dispenser.html (Heffy Doodle)
http://shrsl.com/1ypc6 (Scrapbook.com)
Heffy Doodle Santa's Village
https://heffydoodle.com/shop/santa-s-village-clear-stamp-set.html (Heffy Doodle)
http://shrsl.com/1ypcb (Scrapbook.com)
Heffy Doodle Holiday Sentiment Duos Stamp
https://heffydoodle.com/shop/holiday-sentiment-duos-clear-stamp-set.html (Heffy Doodle)
http://shrsl.com/1ypcg (Scrapbook.com)
Inks
Lawn Fawn Jet Black Premium Dye Ink
http://shrsl.com/122eu (Scrapbook.com)
https://amzn.to/2vDfdh5 (Amazon.com)
Versafine Clair Nocturne Ink
http://shrsl.com/1i8c8 (Scrapbook.com)
https://amzn.to/2WdfBOl (Amazon.com)
Lawn Fawn Candy Store Mini Ink Cube Pack
(includes Lobster, Peacock, Sugarplum and Walnut)
http://shrsl.com/1ypcv (Scrapbook.com)
https://amzn.to/2QGRpUS (Amazon.com)
Mermaid Lagoon Distress Oxide Ink
http://shrsl.com/128b3 (Scrapbook.com)
https://amzn.to/2StoDFZ (Amazon.com)
Tumbled Glass Distress Oxide Ink
http://shrsl.com/128bk (Scrapbook.com)
https://amzn.to/2Ml6v0s (Amazon.com)
Adhesives
Art Glitter Glue 4oz with Ultra Fine Metal Tip
https://amzn.to/2Gq25Ar (Amazon.com)
Tools
Self-Healing Black Craft Mat (12×18)
https://amzn.to/2le8w2C (Amazon.com)
Mini Misti Stamping Tool
http://shrsl.com/1ki0f (Scrapbook.com)
https://amzn.to/2DqLVWR (Amazon.com)
http://shrsl.com/1njcs (My Sweet Petunia)
EK Success Cutter Bee Scissors
http://shrsl.com/135no (Scrapbook.com)
https://amzn.to/2KQ6aOQ (Amazon.com)
Tonic Studios Tim Holtz Retractable Craft Pick
http://shrsl.com/1gssm (Scrapbook.com)
https://amzn.to/2EaoQHx (Amazon.com)
Vivace Make Up Brush Set (Blending Brushes)
https://amzn.to/2OmToJc (Amazon.com)
Staedtler White Eraser
https://amzn.to/2U5sTvT (Amazon.com)
Therm O Web Gina K Masking Magic Paper
http://shrsl.com/1ypdk (Scrapbook.com)
https://amzn.to/37podrr (Amazon.com)
Spectrum Noir Sparkle Glitter Brush Pen Clear Overlay
https://amzn.to/2OwEGjt (Amazon.com)
Tonic Studios Nuvo Crystal Glaze
http://shrsl.com/1qzct (Scrapbook.com)
https://amzn.to/2Z1Zd3X (Amazon.com)