April 26, 2018
Jewel Toned Jewels!
Good morning!  Jess here with a bright jewel-toned alcohol ink card using the fabulous Geology Rocks set!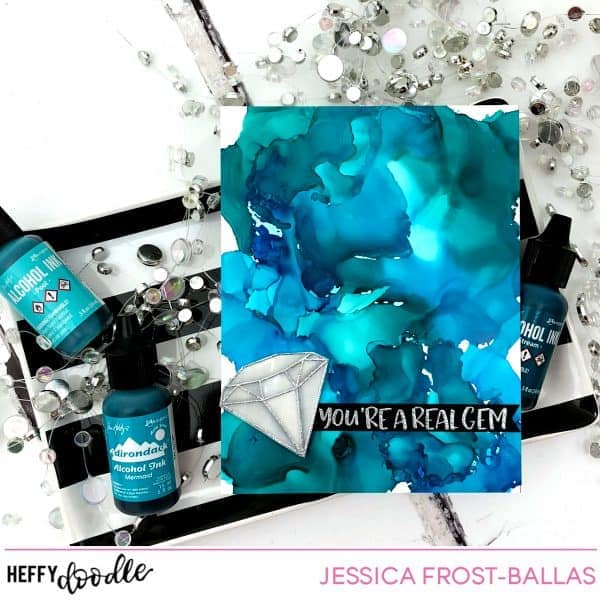 I loved the giant gem in that set and wanted to see if I could create the look of a real diamond using a combination of copic coloring, heat-embossing, sparkle, and shine! 😉 I started by stamping the diamond with a very pale ink on white cardstock.  I added shading with grey copic markers and set it aside.  Then I stamped the gem a second time on vellum and heat-embossed it with silver tinsel embossing powder.  I used vellum adhesive to adhere the vellum over the white cardstock.  Next I added a THICK layer of spectrum noir clear sparkle to the vellum and once that dried I added a layer of nuvo crystal glaze and let it dry overnight.  It might not be a perfect diamond replica but I love how much it shines and sparkles when it catches the light!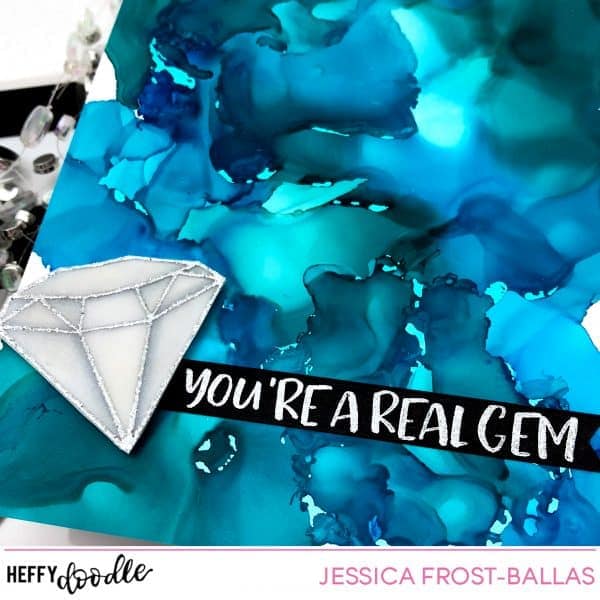 I stamped the sentiment from Geology Rocks onto black cardstock and heat-embossed it with silver tinsel embossing powder.  Then I die-cut it with the Strips of Ease set and cut a fishtail banner for one end.  I adhered the other end behind the gem.  I wanted to create a background that would be bright (since the diamond was all white and grey) but wouldn't take attention away from the diamond.  So, of course, I turned to jewel-toned alcohol inks! 😉 I blended pool, mermaid, and stream alcohol inks onto yupo paper with alcohol ink blending solution to create an emerald and sapphire toned background.  I also added a little extra shine by applying turquoise foil to the sticky areas of the background.  You can see it in the lightest areas in the photo above.  I wish I could capture all the sparkle and shimmer of this card…it's really fun how the different areas catch the light!
Thanks for visiting and have a wonderful crafty week!
-Jess