April 7, 2020
Creating Smiles – Heffy Doodlers April Challenge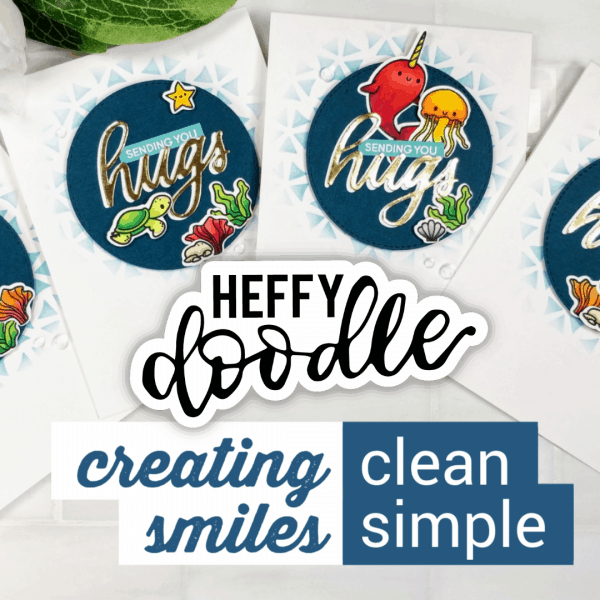 Hello my crafty friend. Amanda Stevens here again, with a new challenge for the month. I want to create as many smiles as I can. And I hope you'll join me. First up, let's put a smile on Karen Breen Shanahan's face, by telling her she's the winner of the March Heffy Doodlers Challenge! Isn't her tag adorable?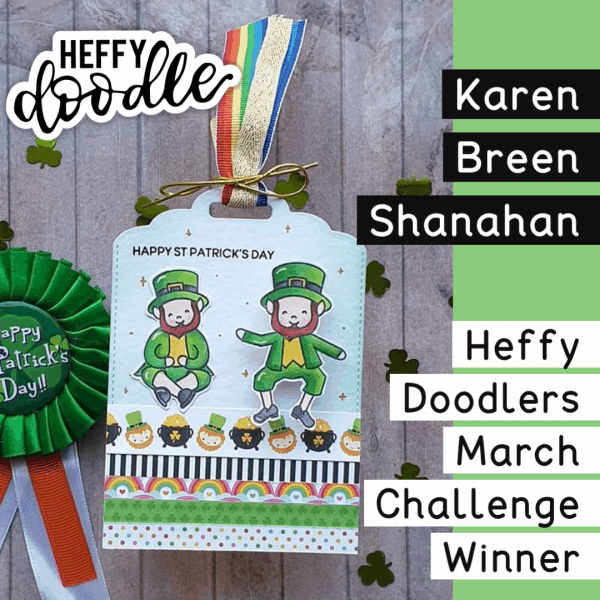 There were so many fantastic entries last month. Make sure you join the Heffy Doodlers group on Facebook and check them all out. It's also a great place to share your projects and meet new crafty friends. Plus, I try to share Lesley's weekly videos there too as soon as she goes live.
This month, we'll be Creating Smiles with Clean and Simple cards! Show us what that means to you, using Heffy Doodle products (mostly) and enter for your chance to win a £35 gift card! (Woohoo!) The challenge starts now in the Heffy Doodlers Facebook Group, and runs through May 3rd, 2020.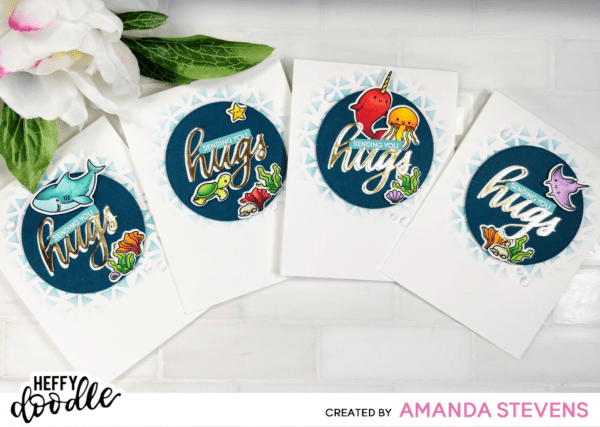 To help inspire you, I made a set of cheerful cards. Cards like this are quick and easy to create multiples of. I stamped out images from Oceans of Love and colored them with Copic markers. Then, I cut them out, along with several blue Stitched Circles. I used a combination of the die cut word HUGS, and an embossed Strip of Ease to create the sentiments for the cards.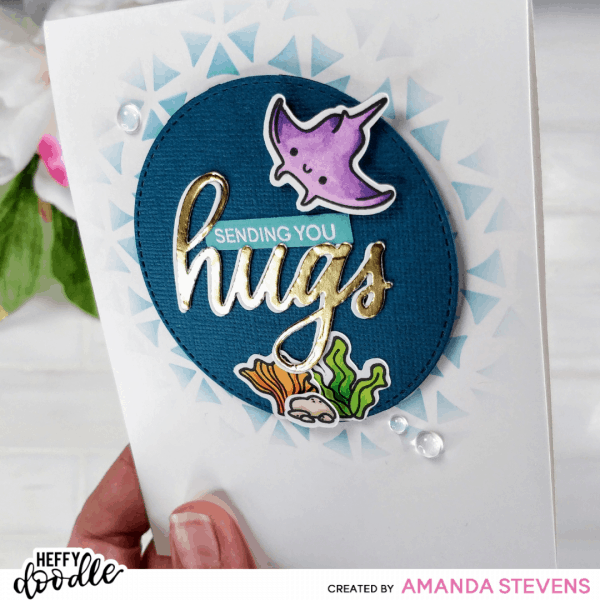 I layered a few images and a sentiment onto each circle for simple focal points. My plan was to glue them to plain white card bases, but I didn't like the way that looked, so I blended a little blue ink through the Crazy Kaleidoscope stencil before adhering the circles in place. (Did I mention that clean and simple cards are hard for me?) A few flat-backed bubble gems, and some Aqua Shimmer highlights finish the cards. You can head on over to my blog for more details on these cards.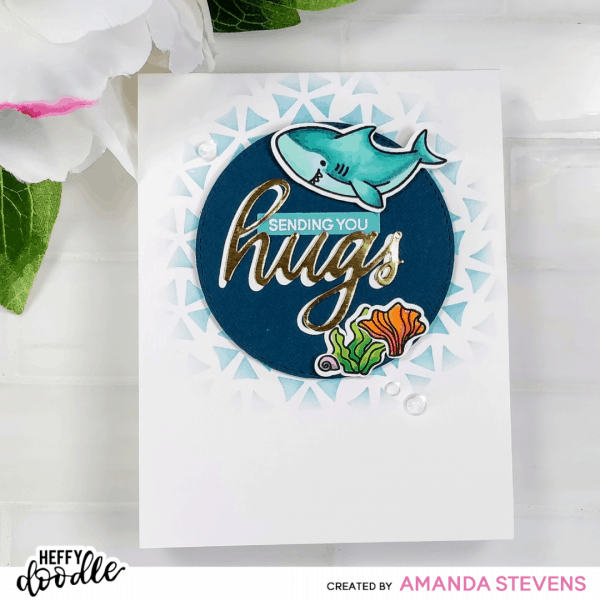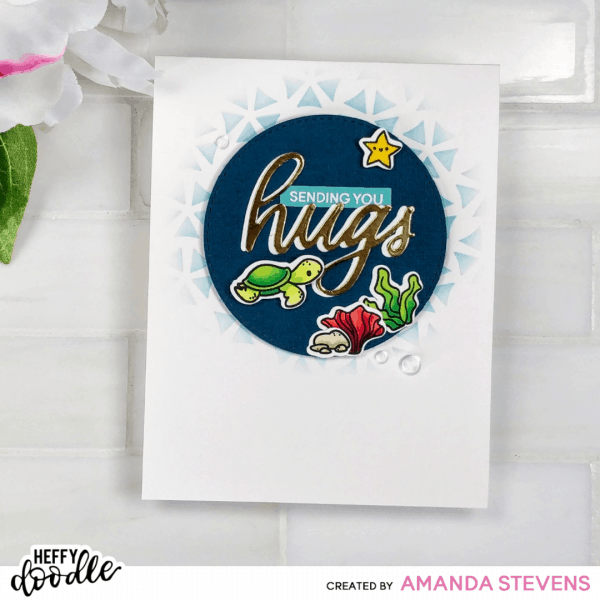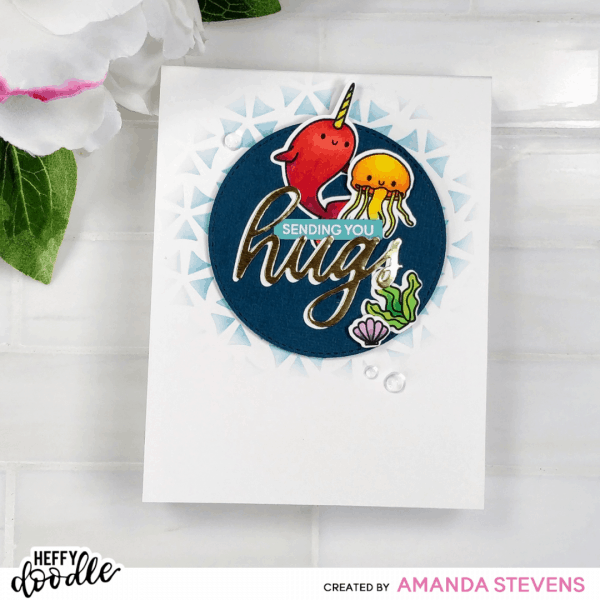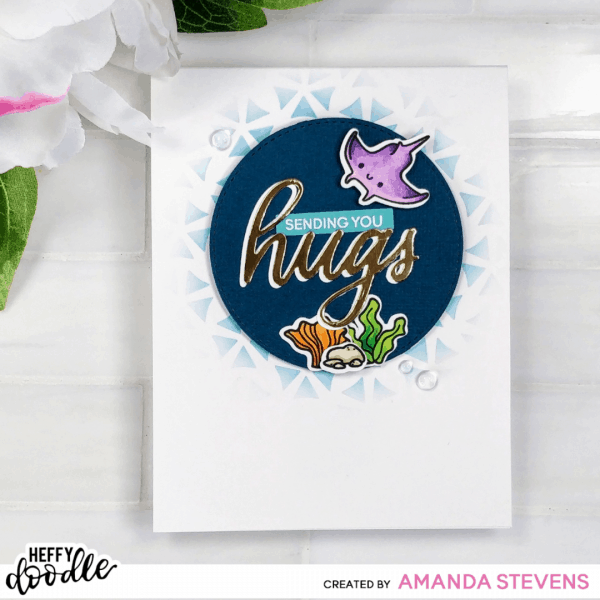 Now it's your turn. Pull out your Heffy Doodle stamps, stencils, and dies and let's see how many smiles we can create this month! After all, who doesn't love a paper hug? To enter, go to the Heffy Doodlers Facebook Group and post a picture of your project in the April 2020 Challenge album. Enter as many cards as you like. The winner will be randomly chosen from all entries posted prior to Midnight (UT) on May 3rd, 2020. You are not limited to cards, feel free to post tags, scrapbook pages, home decor projects, etc. Just be sure the bulk of the stamps and dies used are from Heffy Doodle. Good luck my friend!
Questions, just ask. Need some more inspiration to get you started? Follow Heffy Doodle on Pinterest! You can find boards with themes and specific stamp sets. Got an idea, but need some new Heffy Doodle goodies? Head on over to the shop and treat yourself! For a limited time, Lesley is including something special in every order!
Remember, you enter the challenge in the Facebook group, not here. And as always, let's keep it PG please 😉 I'll be back on May 5th to announce the winner and the next challenge. Until then, I'll see you on Facebook…
The Heffy Doodlers Challenge is not sponsored by, nor affiliated with Facebook. To be eligible to win, you must be at least 18 years old, and agree to allow Heffy Doodle permission to use your submitted photos for promotional purposes.